S.A. Yoder Lecture to feature Mexican-American author Luis Urrea
S.A. Yoder Lecture: "The Border, Immigration and the Devil's Highway: A Journey with the Author Luis Urrea"
Date and time: Monday, Oct. 15 at 10 a.m.
Location: Goshen College's Church-Chapel
Cost: Free and open to the public
---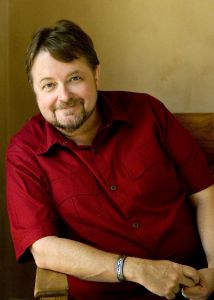 Mexican-American poet, essayist and novelist Luis Urrea will present Goshen College's annual S.A. Yoder Lecture on Monday, Oct. 15 at 10 a.m. The lecture, titled "The Border, Immigration and the Devil's Highway: A Journey with the Author Luis Urrea," will take place in the college's Church-Chapel and is free and open to the public.
Urrea is a prolific and award-winning writer. He is a master of language and a gifted storyteller who uses his dual-culture life experiences to explore themes of love, loss and triumph. Born in Tijuana, Mexico to a Mexican father and an American mother, Urrea grew up in San Diego, Calif.
The author of 14 books, Urrea has published extensively in many genres and has received many prestigious awards. In 2009 he wrote his first-ever mystery short story, "Amapola," and won an Edgar Award. "The Devil's Highway", his 2004 non-fiction account of a group of Mexican immigrants lost in the Arizona desert, won the Lannan Literary Award and was a finalist for the Pulitzer Prize.
Urrea attended the University of California at San Diego, earning an undergraduate degree in writing, and did his graduate studies at the University of Colorado-Boulder. In addition to receiving a teaching fellowship at Harvard University, he has also taught at Massachusetts Bay Community College, the University of Colorado and the University of Louisiana-Lafayette. Urrea is currently a professor of creative writing at the University of Illinois-Chicago.
As a young man, Urrea served as a relief worker amongst people living in the slums in Tijuana. Issues relating to the U.S.-Mexican border have defined his life and colored much of his writing. Regarding this point he once said, "The border is simply a metaphor that makes it easier for me to write about the things that separate people all over the world, even when they think there is no fence."
The S.A. Yoder Lecture Series, begun in 1972, honors Dr. Samuel A. Yoder, a professor at Goshen College from 1930 to 1935 and again from 1946 until his death in 1970. The lecture is sponsored by the Goshen College English Department and the Center for Intercultural and International Education.