Retired Goshen College Faculty Exhibit
Reception: Saturday, October 6, 2012 — 5-7 pm, Hershberger Art Gallery
Abner Hershberger
MFA University of Michigan, Ann Arbor MI,1970; MAT Indiana University, Bloomington, IN, '65 BA Goshen College, Goshen, IN 1960; -additional studies: Washburn University, Topeka, KS: Notre Dame, University, South Bend.
Images of North Dakota and the midwest flatland are always with me. These vast expanses of grids mark the fields of grain and cultivated land. These are the fields I plowed into adulthood. They imprint stark images of furrowed land markings, stubble fields, fresh soil contrasts of cultivation, and patterns of irrigation. In memory they seem poetic and are a constant source for visual expression. These colorful, independent sections coexist peacefully despite their diversity. Abstracted, their imprint seems even bolder, somewhat the way it feels when working the land. It beckons as though it were a spiritual ritual.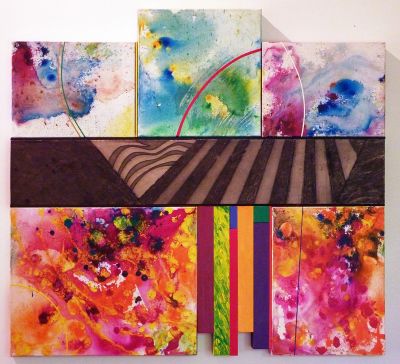 Marvin Bartel
Marvin Bartel will exhibit recent sculptural and functional ceramics. Bartel taught ceramics and art teaching methods at Goshen College from 1970 until his retirement. He also taught courses in basic design, three-dimensional design, photography, computer drafting, and architectural design. Bartel patented energy reduction features used in the gas kiln he uses. It was one of seven kinds of kilns built during a kiln building class he taught in 1975.
Before joining the Goshen faculty, he taught ceramics at Northeast Missouri State University; drawing, painting, and design at Bethel in Kansas, and ceramics, jewelry; and general art at Topeka High School in Kansas.
Bartel studied art at Bethel College in Kansas, Washburn University, and Wichita State University. He holds a master's and doctorate degree in art education from the University of Kansas. Also see www.bartelart.com for his writings on art education and for images of Bartel's artwork.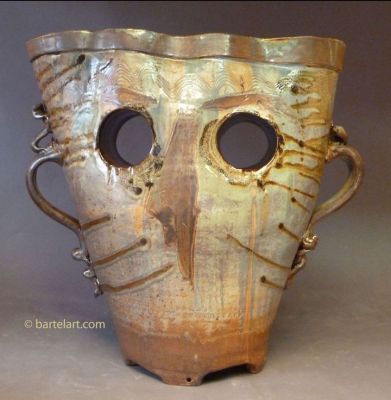 Judy Wenig-Horswell
Judy Wenig-Horswell began teaching evening classes at Goshen College in 1973 while an art teacher at Northridge High School in Middlebury and in 1976 was hired as a sabbatical replacement.  She continued teaching a wide range of studio and lecture classes in the art and humanities departments until her retirement in 2009.  She served briefly as art department chair on two occasions and teamed with music and theater professors to develop the Arts in London course in 1999 which she helped teach for six years.
The watercolors are part of a series of color and space studies begun in 2009 that have evolved from purely non-objective to include representational images.  The jewelry and sculptures in sterling and bronze reflect a continuing interest in organic forms and an invented 'natural' world.  All works in this exhibition were completed since retirement.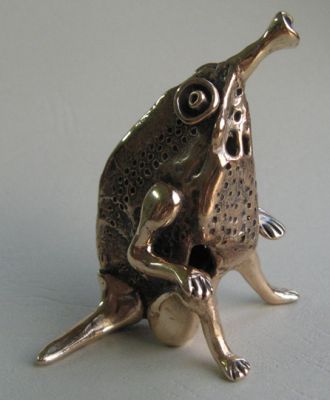 John Blosser
The work in this show has all been done by direct observation, i.e by standing in a chosen location and painting in immediate response to what I see. Some of these were started as many as seven years ago and some this spring and summer. All were completed very within this past month.  I continue to enjoy both the process and products of this approach, which, I believe results in unvarnished, honest and less predictable results I do take some liberties with shape and color choices, but by and large such choices are inherent to the business of painting.