Goshen College's 2012 Peace Play winner, 'Mr. Maurizio,' will have world premiere Oct. 5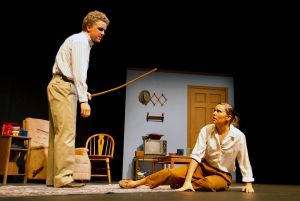 Event: Goshen College Peace Plays – "Mr. Maurizio" by Mic Weinblatt, directed by 2012 Goshen College alumnus Phil Weaver-Stoesz
Date and time: Oct. 5 at 8 p.m., Oct. 6 at 4 p.m., Oct. 7 at 2 p.m. (ASL interpreted)
Location: Goshen College Umble Center
Cost: All tickets are $3 and can be purchased at the door
---
GOSHEN, Ind. – The winning play in the 2012 Goshen College Peace Play Contest – the only contest devoted solely to plays about peace and peace-related topics in the United States – is "Mr. Maurizio" by playwright Mic Weinblatt of Minneapolis, Minn.
Weinblatt's play about regret will have its world premiere on stage during the college's Homecoming Weekend on Oct. 5 at 8 p.m., Oct. 6 at 4 p.m., Oct. 7 at 2 p.m. (ASL interpreted) in the college's Umble Center. The play will be performed by Goshen College students and directed by 2012 Goshen College alumnus Phil Weaver-Stoesz during the college's Homecoming Weekend.
"Mr. Maurizio" explores the volatile relationship between a lonely man in his seventies and his "companion" – a young, compassionate El Salvadoran immigrant named Santina who feeds and cares for the older Italian immigrant. Santina attempts to find Maurizio's estranged son as his emotional and physical health declines. As his body fails him, his relationship with Santina takes a shocking turn.
"This is a play about regret," said Weaver-Stoesz, the director. "Regret is powerful because it reveals to us an inexorable truth: that we cannot make a choice twice. We can only ever move forward in our lives; we can never go back."
The cast includes junior Sara Klassen, a peace, justice and conflict studies major from Goshen; senior Becca Yoder, a social work major from Lancaster, Pa.; and sophomore Paul Zehr, a music and communication double major from Carthage, N.Y.
Weinblatt, the winning playwright, is a former school teacher and principal. He is active in the world-renowned Minneapolis Fringe Festival and has both written and performed in numerous short plays there.
The second place play in the 2012 contest was "Seldom is Heard" by Mary Steelsmith, and honorable mention went to 1999 Goshen College graduate Peter Eash-Scott for his play "Stay Tuned."
All seats for the performances cost $3 and can be purchased at the door or at the Goshen College Welcome Center. Call (574) 535-7566 for more information.
All three of these plays were selected from the more than 50 plays entered in the biennial contest, which is in its 30th year (established in 1982). The next deadline for entries to the context is Dec. 31, 2013, with the winning production(s) taking place in fall 2014. Contact Professor of Communication and Theater Doug Liechty Caskey for contest rules and guidelines at douglc@goshen.edu, (574) 535-7393, or Goshen College, 1700 S. Main, Goshen, IN 46526.
The Goshen College Peace Play Contest is underwritten by a grant from the Disciples of Peace, a Middlebury (Ind.) charitable fellowship, and was established in 1982. According to Caskey, this is the only contest devoted solely to plays about peace and peace-related topics in the United States of which he has knowledge.
Previous winners of the Peace Play Contest are:

1982 – "The Dove, the Hawk and the Phoenix," by Norman A. Bert
1984 – "After the First Death," by Richard Strayton
1986 – "Shadows," by Scott Memmer
1988 – "Eminent Domain" by Ronald L. Dye
1990 – "Rock In A Weary Land" by Marian Towne
1994 – "Andromache in Baghdad" by Norma Jenckes
1998 – "Bombers" by Jonathan Graham, first place, and "Catch a Falling Star" by Darrel deChabey, second place
2000 – "Where Are You From?" by Helayne Schiff, first place, and "Topaz" by Kenny Berkowitz, second place
2002 – "The Photo Shoot" by John Wolfson, first place, and "The Story" by Rebecca Schwarz, second place
2004 – "Enough" by Patricia Montley, first place, and "In a Time of War" by Eric Diener Meyer, second place.
2006 – "Baby Boom" by Lia Romeo, first place, and "Acts of Contrition" by Patricia Montley, second place
2008 – "Here to Serve You" by Barbara Lindsay, first place, and "29 Questions" by Hillary Rollins, second place
2010 – "A Gentler Place" by Jeff Carter, first place, and "Pedestrian Casualty, Bronx USA" by Nina Mansfield, second place