Goshen College Music Center accepting registrations for fall Music Together classes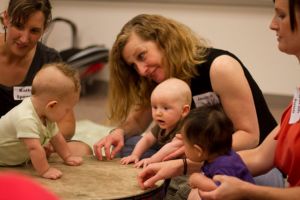 The Goshen College Music Center is now accepting registrations for its Music Together® classes, which will begin in mid-September. Classes are for children from birth to age 5 and their caregiver, and are held in Elkhart and Goshen.
Music Together® is a research-based curriculum of music and movement that is fun and educational for both children and caregivers. Trained professionals facilitate activities for learning through use of singing and movement to songs and chants from a wide variety of cultures and styles. In Music Together®, children attend a weekly 45-minute class with a parent, grandparent or other caregiver, and receive a songbook and professional CD for home listening.
Music Together® classes will be held at the following locations in Elkhart County beginning the week of September 17:
•       Greencroft Retirement Center, Evergreen Place (Goshen)
•       Goshen College Music Center (Goshen)
•       LifeCenter/First United Methodist Church (Goshen)
•       Chamberlain Elementary School (Goshen)
•       Waterford Crossing Senior Village (Goshen)
•       Prairie Street Mennonite Church (Elkhart)
Tuition for the ten-week course is $150 for the first child. Siblings may attend for an additional $20 per child. Need-based scholarships are available to any family whose income qualifies them for free or reduced lunch in the Federal Free or Reduced School Lunch program.
Families are encouraged to register as soon as possible to ensure enrollment in your preferred class. To register or for additional information, including specific class schedules and locations, please contact the Music Center office at (574) 535-7361 or visit www.gcmusiccenter.org.