Merry Lea hosts Autumn Hope Conference, Sept. 28-30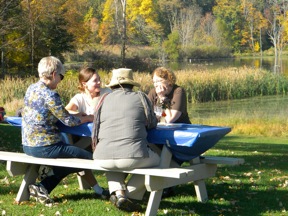 WOLF LAKE, Ind. — How do people of faith understand their relationship to their land, and how do they live on it? This is the focus of a Autumn Hope Conference at Merry Lea Environmental Learning Center of Goshen College on Sept. 28-30.
"Learning from Long Traditions" is the theme of the 2012 weekend conference. This annual faith-based event is a blend of outdoor hikes, input from guest speakers, reflection and worship. Dr. Luke Gascho, Merry Lea's executive director, will serve as moderator for the event.
"Understanding the 'long traditions' of our neighbors is critical to our being able to live sustainably on this planet in the future," Gascho says. He sees careful listening as a form of the Christian call to love one's neighbors.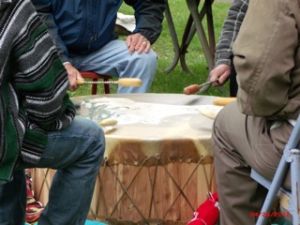 Guest speakers representing several cultural groups will reflect on the people/land relationship. Dani Tippmann, Arcola, Ind., is a member of the Miami Nation of Indiana as well as the director of the Whitley County Historical Museum. Tippmann will take participants to an area of Merry Lea's property where Miami people were known to congregate. She will also lead a night hike featuring Miami star stories and demonstrate uses of traditional Miami corn.
In addition, the group, Medicine Woman Singers will share Miami rhythms and songs. The group takes its name from the traditional drum used, which is called a medicine woman. Jerry Anders, Lagro, Ind., who organizes the group, describes their music as a labor of love. "It's never 'just a gig' for them," Tippmann comments.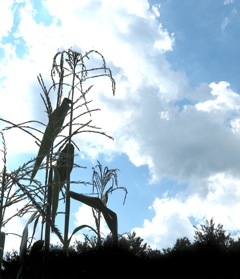 Dr. Wilma Bailey, a professor of Hebrew and Aramaic scripture at Christian Theological Seminary, Indianapolis, Ind., will offer an ancient Israelite perspective on the people/land relationship, which has been preserved in scriptures such as the story of Adam, Eve and a serpent in Genesis 3. Bailey points out that many readers overlook the text's attention to land resources and how they are to be divided between animals and humans.
Dr. Laura Yoder, who teaches in the Sustainability and Environmental Education Department at Merry Lea, lived in Asia for over 10 years. Yoder will show photographs of sacred groves she visited and help participants grasp a worldview where certain places are believed to be inhabited by deities. Beliefs such as these function as environmental protection in some parts of the world.
Participants will also reflect on their own "long traditions" regarding land care, and have an opportunity to share stories from their families or religious or cultural heritage.
A schedule and registration form for Learning from Long Traditions is available at http://merrylea.goshen.edu/news-events/events/autumn-hope-conferenceor by calling 260-799-5869. The weekend registration fee of $115 includes all events and five meals. Lodging is on your own.