Seraphic Fire to kick off 2012-13 Performing Arts Series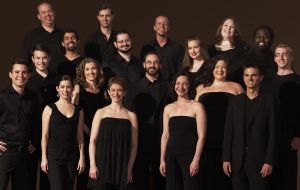 Performing Arts Series: Seraphic Fire
Date and time: Friday, Sept. 14 at 7:30 p.m.
Location: Goshen College Music Center's Sauder Concert Hall
Cost: $35, $30, $20
For more information: Call (574) 535-7566, e-mail welcomecenter@goshen.edu or order tickets at www.goshen.edu/tickets
Web site: www.seraphicfire.org
Goshen College will kick off its 2012-13 Performing Arts Series season with a concert by Seraphic Fire on Friday, Sept. 14 at 7:30 p.m. in Goshen College Music Center's Sauder Concert Hall. Seraphic Fire is an all-star ensemble of renowned singers from across the United States.
Tickets for the concert cost $35, $30 and $20 and are available through the Goshen College Welcome Center. Call (574) 535-7566, email welcomecenter@goshen.edu or purchase online at www.goshen.edu/tickets.
Their Sept. 14 program, titled "This is Seraphic Fire!," is a marvelous introduction to the artistry of the group. The dynamic young ensemble will sing the music that has brought it to prominence, including a combination of stunning motets and choral miniatures combined with soul-stirring pieces from the U.S. folk tradition, in this jaw-dropping display of vocal talent.
With a base in south Florida, the chamber choir has gained a reputation for dynamic, cutting-edge performances and a broad repertoire, ranging from classical to contemporary and sacred to secular choral works.
Founded in 2002 by Artistic Director Patrick Dupré Quigley, the group has since garnered critical acclaim, including two Grammy nominations in 2012 for their recordings "Brahms: Ein Deutsches Requiem" and "A Seraphic Fire Christmas." Seraphic Fire was the only choir in North or South America to be nominated, and the only classical ensemble in the world to be nominated for two separate projects.
Seraphic Fire is also committed to educational outreach. The Miami Choral Academy, Seraphic Fire's inner-city education initiative, aims to change lives of underprivileged children by offering daily afterschool choral music instruction at disadvantaged Miami-Dade County public elementary schools. The program currently serves 200 children in five afterschool choirs.
Additionally, Seraphic Fire has established the annual two-week Professional Choral Institute & Artistic Director Academy which trains aspiring pre-professional singers and conductors with the aim of giving them the musical and business skills to make professional choral and ensemble singing their full-time vocation. The Professional Choral Institute is the only such program in the United States.
Seating for those with disabilities is available and the minimum age of attendees is 5 years old. Tickets are nonrefundable.
The Goshen College Performing Arts Series debuted on Sept. 21, 1997. Since then, the college has hosted more than 100 concerts by some of the world's greatest performers as part of the program.