A gift of life: Dan Coyne '80 has been inspired by GC's 'Culture for Service'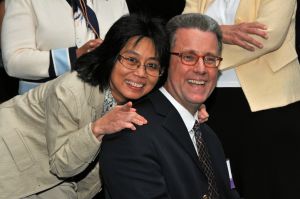 A longhaired teenage boy sat in the Elkhart County Jail awaiting transportation to the state correctional facility where he was to live for the next five years. After getting arrested for burglary and being put in solitary confinement for smuggling a weapon into jail, his story made the front page of the Goshen News.
Thirty-five years later, the same man lay in a hospital bed, awaiting transportation to an operating room so he could donate his kidney to a woman who needed it. Again, he was featured on the front page of the Goshen News, this time for being named "Hero of the Year" by the Chicago Red Cross.
Dan Coyne '80 moved with his family from Albion, Mich., to Goshen when he was in ninth grade, and immediately didn't fit in. "My shoulder-length hair and self-medicating behaviors kept most peers and teachers relationally apart from me," he said. "Some teachers verbally taunted me by calling me a girl and a hippie."
After repeated verbal and physical abuse, Coyne quickly learned to hate school and distrust adults. He spent most of his time in high school in suspension and emotionally disconnected. "Most of my leisure time was spent burglarizing homes in Goshen, taking cash and creating monster images in victims' minds and hearts," he said. One day, in 1973, he used the cash he collected illegally, purchased a used car, stole a license plate and ran away from what he felt was a broken home and community life.
What happened in the time between his young life of distrust and unhealed wounds and his selfless act of giving in his adult life? Coyne said it's when he learned about the idea of "Culture for Service" that his worldview began to change.
Coyne first heard about "Culture for Service" when he was at the Indiana correctional facility and a young woman came to visit the inmates. "I heard a young woman's peaceful voice as she was sharing her Goshen College Study-Service Term experience of Peru with the inmates," he said. "Was it her gentle innocence relating to the forgotten? Or was it her color slides of a world far away? More than likely, it was her natural ability to actualize Goshen's motto, 'Culture for Service.'"
Coyne was a fast learner at the Indiana Reform School for Boys, and quickly earned enough academic credit to catch up with his peers. The parole board released him to his family and he was allowed back at his high school four years early.
Coyne continued to cross paths with "Culture for Service" as he began to adjust to a new life after leaving the correctional facility. Bill Miler '55 (Associate Director of Admissions at GC at the time) and Phyllis Ramseyer Miller '55 of Goshen provided Coyne with a place of refuge. They encouraged their teenage boys to develop a friendship with Coyne and invited him into their home where he watched family members pray, sing and enjoy each other's company in a safe environment.
Coyne began attending College Mennonite Church on campus and got connected with the youth program there with the help of Rick Stiffney '73, who was the youth pastor at the time. Yet another GC alum came into his life when Carl Weaver '69 became one of Coyne's teachers. "Carl became the most influential teacher in my high school life through graceful coaching and fun biological rigor," Coyne said.
Later, Coyne remembers Goshen College President J. Lawrence Burkholder giving him a personal tour of campus (topped off with a free lunch.)
Through these various acts of kindness, Coyne said he slowly began to understand the significance of unconditional love and service. "These strange folks actually lived according to their word," he said.
Inspired to also live out this lifestyle, Coyne decided to attend Goshen College. He studied biology, met his wife, Emily (Bohn) Coyne and graduated in 1980. He began working in public service and became the founder of two halfway homes in Portland, Ore., which are now celebrating their 25-year anniversary. Later, he received a master's degree in social work from the University of Chicago.
So when it came to donating his kidney to his favorite cashier, it was just a matter of following the example of those before him. Coyne knew Myra de la Vega as a cashier at a local store for almost 20 years, when one day he noticed she was looking ill. When he asked what was wrong, she told him she suffered from renal failure and needed a kidney – and no one in her family was a match. Coyne offered to see if he was a match, and he was. The transplant took place in March 2010.
"There is nothing unique in how I responded to Myra's need," said Coyne. "Many GC alumni do this each and every day, whether it's the gifted surgeon's hands healing a broken body or the scientist's tenacious research discovering cures for disease – each is using his or her education to serve our world."
Now that both Coyne and de la Vega have recovered from the operations, they have teamed up to help raise more than $500,000 for the Chicago Area Red Cross and became partners in a nonprofit kidney organization that teaches people how to ask for a kidney, the Living Kidney Donor Network.
At the time just after the donation, Coyne, a social worker for Chicago Public Schools (CPS), received substantial news media attention because of his selfless act. This added attention led CPS officials to learn that Coyne did not live within city limits, a requirement for all its employees. For a time, Coyne was unsure if he would be able to keep his job with the school district, but after conversations with the school district and the mayor of Chicago, he has been able to keep his job.
"Both of my schools have taken this event to help teach our students, faculty, parents and stakeholders the value of serving others unconditionally," he said. The schools have even dedicated every March 26 to celebrate Dan Coyne Day by learning about stories where people have helped serve their community.
"How can I thank the peaceful college jail volunteer and the myriad of Goshen saints who faithfully nurtured a new life?" asked Coyne. "Perhaps 'thank-you' will do. Perhaps following in their footsteps will do better."
— By Alysha Landis '11, in the Summer 2012 Bulletin