Watch animals come to life when Imago Theater presents 'Zoo Zoo' at Goshen College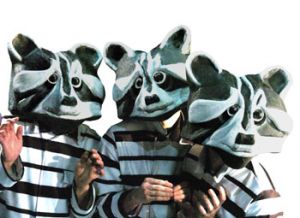 GOSHEN, Ind. – Portland (Ore.)-based Imago Theater will present "Zoo Zoo" as the final guest of Goshen College's 2011-12 Performing Arts Series season on Friday, April 27 and Saturday, April 28 at 7:30 p.m. in the college's Umble Center. Imago's shows have been described as Cirque Du Soleil-evoking acrobatics mixed with Mummenschanz-like mime, set in a unique, yet accessible French-influenced avant-garde playground.
Tickets cost $30, $20 and $15 and can be purchased through the Goshen College Welcome Center by calling (574) 535-7566, emailing welcomecenter@goshen.edu or online at www.goshen.edu/tickets.
Event Info
Performing Arts Series: Imago Theater presents "Zoo Zoo"
Date and time: Friday, April 27 and Saturday, April 28 at 7:30 p.m.
Location:Goshen College's Umble Center
Cost:$30, $20, $15
For more information: Call (574) 535-7566, e-mail welcomecenter@goshen.edu or visit www.goshen.edu/tickets
Web site: www.imagotheatre.com
---
Zoo Zoo is penguins playing musical chairs, a cat trapped in a giant paper bag, hippos with insomnia, anteaters as waiters and a madcap revue of illusion, comedy and fun that has inspired audiences nationwide. The show's universal themes are presented with a light touch, as animals take on human characteristics and inanimate objects spring to mischievous life.
Zoo Zoo is performed without words to an original score by Katie Griesar, and is comprised of a series of short works lasting in length from four to seven minutes. Each work plays on the anthropomorphic realization of animals and inanimate objects. A cast of five plays a multitude of characters ranging from fireflies to giant polar bears in a show that appeals to ages 4 to 104.
Founded in 1979 by Carol Triffle and Jerry Mouawad, Imago Theater's original productions have toured internationally for over two decades. The universal nature of Imago's work has won audience and critical acclaim in tours across Asia, Europe, Canada and the United States. The New York Times called the theater's work "a mastery of mime, dance and acrobatics."
From adaptations of classics to excursions into vaudevillian existentialism, Imago's repertoire is as vast as the forms they shape. With commissions for stage, film and television, Imago blurs the lines of the expected to break new ground, exploding performance boundaries, yet maintaining humor and humanity.
Seating for those with disabilities is available. Tickets are nonrefundable.
The Goshen College Performing Arts Series debuted on Sept. 21, 1997. Since then, the college has hosted more than 100 concerts by some of the world's greatest performers as part of the program.
Editors: For more information about this release, to arrange an interview or request a photo, contact Goshen College Acting News Bureau Coordinator Alysha Bergey Landis at (574) 535-7762 or alyshabl@goshen.edu.
###
Goshen College, established in 1894, is a residential Christian liberal arts college rooted in the Anabaptist-Mennonite tradition. The college's Christ-centered core values – passionate learning, global citizenship, compassionate peacemaking and servant-leadership – prepare students as leaders for the church and world. Recognized for its unique Study-Service Term program, Goshen has earned citations of excellence in Barron's Best Buys in Education, "Colleges of Distinction," "Making a Difference College Guide" and U.S.News & World Report's "America's Best Colleges" edition, which named Goshen a "least debt college." Visit www.goshen.edu.