Goshen College's Afternoon Sabbatical Series to host Chicago art and architecture trip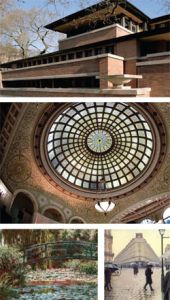 GOSHEN, Ind. – Goshen College's 2011-12 Afternoon Sabbatical Series will culminate with a spring bus trip to Chicago featuring art and architecture on Tuesday, May 8. The cost for the trip is $80, and the registration deadline is April 27. Call (574) 535-7565 to register.
In the morning the group will visit the Frank Lloyd Wright House and Studio in Oak Park to enjoy his amazing architectural style, then will return to Michigan Avenue to visit the Chicago Cultural Center, constructed over 100 years ago as the Chicago Public Library and a Civil War memorial with its marbled and mosaic interiors and the world's largest art glass dome by Tiffany.
In the late afternoon there will be an hour-long docent-led tour of the highlights of the Chicago Art Institute, followed by free time to explore other interests in the museum.
Attendees will have free time for lunch in the city and a box meal will be provided on the trip home.
Event Info
AS Spring Bus Trip: Chicago Art and Architecture
Date: Tuesday, May 8, 2012
Cost: $80, call (574) 535-7565 to register. Deadline is April 27.
---
Goshen College's Afternoon Sabbatical program is in its 34th year of offering rich diversity in programs for the community. A committee of area representatives and college personnel consider the knowledge and talent at Goshen College and among Elkhart County citizens and aim to select programs that will appeal to a wide variety of interests. The program encourages the idea that people need a sabbatical from their daily lives to rejuvenate their minds and spirits.
Editors: For more information about this release, to arrange an interview or request a photo, contact Goshen College Acting News Bureau Coordinator Alysha Bergey Landis at (574) 535-7762 or alyshabl@goshen.edu.
###
Goshen College, established in 1894, is a residential Christian liberal arts college rooted in the Anabaptist-Mennonite tradition. The college's Christ-centered core values – passionate learning, global citizenship, compassionate peacemaking and servant-leadership – prepare students as leaders for the church and world. Recognized for its unique Study-Service Term program, Goshen has earned citations of excellence in Barron's Best Buys in Education, "Colleges of Distinction," "Making a Difference College Guide" and U.S.News & World Report's "America's Best Colleges" edition, which named Goshen a "least debt college." Visit www.goshen.edu.