Cambridge bishop to present address at Goshen College's 114th commencement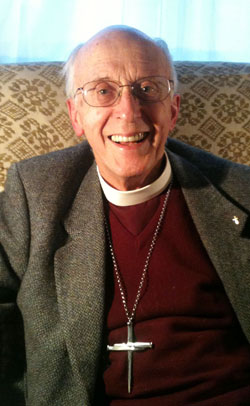 GOSHEN, Ind. – British Bishop Simon Barrington-Ward will present "Becoming What You Are; Exploring the Great Exchange" at Goshen College's 114thcommencement on Sunday, April 22 at 3 p.m. in the Roman Gingerich Recreation-Fitness Center.
This year there are 210 undergraduates and 23 master's degree candidates scheduled to receive diplomas at commencement.
Barrington-Ward received a bachelor's and master's degree from Magdalene College, University of Cambridge, where he later served as chaplain and dean. He served as Bishop of Coventry from 1985-97.
Currently, Barrington-Ward is a bishop with pastoral care of the University of Cambridge, an honorary assistant bishop in the Diocese of Ely, honorary assistant chaplain and honorary fellow at Magdalene College and a chaplain to the staff of Ridley Hall, Cambridge. In 2001, he was appointed Knight Commander of the Most Distinguished Order of St Michael and St George.
Since 2001, Barrington-Ward has been connected with Goshen College as a speaker in the college's Arts in London course.
Barrington-Ward has written several books, including "Love Will Out" (Marshall Pickering, 1988), "Why God?" (Canterbury Press Norwich, 1993), "The Jesus Prayer" (Bible Reading Fellowship, 1996) and "Praying the Jesus Prayer Together" (Hendrickson Publishers, 2004), co-written with Brother Ramon.
Schedule of Commencement weekend activities:
Saturday, April 21
1:30 p.m. — Nurses' Pinning Ceremony, Church-Chapel
2-5 p.m. — Department receptions – graduates and families meet informally with professors (exact times and locations to be announced by departments)
7:30 p.m. — Senior Class Program, Sauder Concert Hall
8:45-10:30 p.m. — President's Reception for graduates and families, Music Center lobby
Sunday, April 22
11 a.m. — Baccalaureate service, with address by President James E. Brenneman, Church-Chapel
3 p.m. — 114th Annual Commencement Ceremony, Roman Gingerich Recreation-Fitness Center (no tickets needed) 
Editors: For more information about this release, to arrange an interview or request a photo, contact Goshen College Acting News Bureau Coordinator Alysha Bergey Landis at (574) 535-7762 or alyshabl@goshen.edu.
### 
Goshen College, established in 1894, is a residential Christian liberal arts college rooted in the Anabaptist-Mennonite tradition. The college's Christ-centered core values – passionate learning, global citizenship, compassionate peacemaking and servant-leadership – prepare students as leaders for the church and world. Recognized for its unique Study-Service Term program, Goshen has earned citations of excellence in Barron's Best Buys in Education, "Colleges of Distinction," "Making a Difference College Guide" and U.S. News & World Report's "America's Best Colleges" edition, which named Goshen a "least debt college." Visit www.goshen.edu.