Irish folk sensation Cherish the Ladies will whistle, sing and dance for April 14 PAS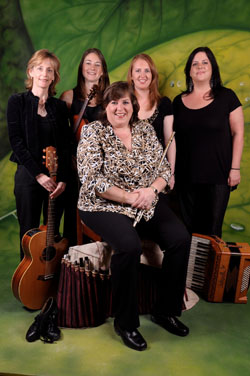 GOSHEN, Ind. – The all-female band Cherish the Ladies will combine their instrumental talents, beautiful vocals and stunning step dancing for a night of traditional Irish-American folk music during a Performing Arts Series concert on Saturday, April 14 at 7:30 p.m. in Goshen College Music Center's Sauder Concert Hall.
Tickets are on sale for $40, $35 and $20 and are available through the Goshen College Welcome Center. Call (574) 535-7566, emailwelcomecenter@goshen.edu or purchase online at www.goshen.edu/tickets.
The 2012-2013 Performing Arts Series will be announced at intermission of this show. Those in attendance will have the opportunity to purchase season tickets that night. The announcement will go live to the public atwww.gcmusiccenter.org at 9 p.m. on April 14, and season tickets can be ordered through the Welcome Center beginning Monday, April 16.
Taking their name from a traditional Irish jig, the Cherish the Ladies began in 1985 with a series of concerts in New York City, celebrating the rise of female musicians in a once male-dominated scene. Soon after, the group won recognition as the first all-women traditional music and dance ensemble, and since then, the group has released 14 albums and won numerous awards, including a Grammy nomination.
Led by Joanie Madden on flute, whistle and vocals, Cherish the Ladies consists of Mary Coogan on guitar, mandolin and banjo; Mirella Murray on piano and accordion; Grainne Murphy on the fiddle and Kathleen Boyle on piano. Together, they have toured North and South America, Europe, China, Australia and New Zealand, performing in a variety of settings from folk festivals to alongside symphony orchestras.
Event Info
Performing Arts Series: Cherish the Ladies
Date and time: Saturday, April 14 at 7:30 p.m.
Location: Goshen College Music Center's Sauder Concert Hall
Cost: $40, $35, and $20
For more information: Call (574) 535-7566, e-mail welcomecenter@goshen.edu or visit www.goshen.edu/tickets
Web site: www.cherishtheladies.com
---
According to the Boston Globe, "It is simply impossible to imagine an audience that wouldn't enjoy what they do." The New York Times said the group "Expands the annals of Irish music in America. The music is passionate, tender and rambunctious."
Cherish the Ladies has shared the stage with such noted entertainers as James Taylor, Emmy Lou Harris, The Clancy Brothers, The Chieftains and several symphony orchestras. Their "Celtic Album," a collaboration with the Boston Pops Symphony, led to a 1999 Grammy nomination. For their latest album, "Country Crossroads," the group joins forces with the Nashville music scene as they collaborate with Vince Gill, Nanci Griffith and Maura O'Connell.
Cherish the Ladies has been named Best Musical Group of the Year by the BBC and Top North American Celtic Group by the Irish Music Awards. NPR's "Thistle and Shamrock" program named Cherish the Ladies the Top North American Celtic Act. The group has been featured on CBS This Morning, Good Morning America, PBS, NPR and the BBC.
Seating for those with disabilities is available and the minimum age of attendees is 5 years old. Tickets are nonrefundable.
The Goshen College Performing Arts Series debuted on Sept. 21, 1997. Since then, the college has hosted more than 100 concerts by some of the world's greatest performers as part of the program.
Editors: For more information about this release, to arrange an interview or request a photo, contact Goshen College Acting News Bureau Coordinator Alysha Bergey Landis at (574) 535-7762 or alyshabl@goshen.edu.
###
Goshen College, established in 1894, is a residential Christian liberal arts college rooted in the Anabaptist-Mennonite tradition. The college's Christ-centered core values – passionate learning, global citizenship, compassionate peacemaking and servant-leadership – prepare students as leaders for the church and world. Recognized for its unique Study-Service Term program, Goshen has earned citations of excellence in Barron's Best Buys in Education, "Colleges of Distinction," "Making a Difference College Guide" and U.S. News & World Report's "America's Best Colleges" edition, which named Goshen a "least debt college." Visit www.goshen.edu.