Violinist and composer Mark O'Connor will celebrate the best in American swing with an evening of acoustic string jazz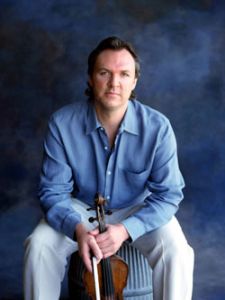 GOSHEN, Ind. – Grammy-winning American violinist, composer and teacher Mark O'Connor will put on "Mark O'Connor's Hot Swing," featuring acoustic string jazz on Tuesday, March 27 at 7:30 p.m. in Goshen College Music Center's Sauder Concert Hall.
For this Performing Arts Series concert, the former sideman for the great jazz master Stephane Grappelli will be joined by several talented musicians for a performance that crosses genres to celebrate some of the best in American swing. "Mark O'Connor's Hot Swing" will feature: vocalist Heather Masse from The Wailin' Jennys, jazz guitar master Frank Vignola, banjoist Matt Munisteri from Brock Mumford and bass player Gary Mazzaroppi.
Tickets are available for $40, $35 and $20 and can be purchased at the Goshen College Welcome Center by calling (574) 535-7566, emailingwelcomecenter@goshen.edu or online at www.goshen.edu/tickets.
Called a "riveting virtuoso" by the L.A. Times, O'Connor is considered one of the greatest collaborating musicians alive today, having performed and recorded with a wide range of musicians, including Yo-Yo Ma, Renée Fleming, Béla Fleck, Ricky Skaggs and Alison Krauss.
O'Connor was considered a child prodigy, winning the prestigious Grand Masters Fiddle Championship in Nashville at age 13 while competing against amateur and professional competitors of all ages. At age 14, he accomplished the same feat on acoustic guitar at the National Flatpick Guitar Championships in Kansas. He became the world mandolin champion at age 19 in Kerrville, Texas.
O'Connor's music crosses the boundaries between American traditional folk and classical as he has composed, arranged and recorded folk, classical and jazz music. His "Fiddle Concerto" has received over 200 performances, making it one of the most performed concertos written in the last 40 years. He has composed works for string quartet, string trio, piano, voice, string orchestra and symphony orchestra.
Recording both solo and in collaboration, O'Connor has recorded albums on Rounder, Warner Bros. Records, Sony Classical and his own OMAC Record labels. His first recording for Sony, "Appalachia Waltz," was a collaboration with Yo-Yo Ma and Edgar Meyer, and the works he composed for the album gained him worldwide recognition as a leader of a new American musical style. The successful follow-up release, "Appalachian Journey," received a Grammy Award in February 2001. His 1991 album, "New Nashville Cats," also won a Grammy.
O'Connor was named Musician of the Year by the Country Music Association six years in a row (from 199 to 1996). His collaborative single, "Restless" (with Vince Gill, Ricky Skaggs and Steve Wariner), won the 1991 CMA Vocal Event of the Year award. In addition to his two Grammy Awards, O'Connor has been nominated for Grammys eight times, was the Frets Magazine Readers Poll Musician of the Year from 1983 to 1987 and was in the Irish-American Top 100 in 2005.
O'Connor regularly conducts three-day residencies, giving lectures, demonstrations and workshops at a variety of music programs around the country, including The Julliard School, Harvard University and the Eastman School of Music. He was an artist-in-residence at UCLA from 2008 to 2009, and currently serves as artist-in-residence at the University of Miami.
In 2009, O'Connor debuted the first of his 10-book "O'Connor Method – A New American School of String Playing" for violin students. The New Yorker called the method "an American-grown rival to the Suzuki method," as it takes an American classical approach to modern violin playing, using melodies like "Amazing Grace" and "Buffalo Gals" and themes from pieces like Copland's "Hoedown" and Dvorak's "New World Symphony." It is the first violin method to feature all American music.
Seating at the Performing Arts Series concert for those with disabilities is available and the minimum age of attendees is 5 years old. Tickets are nonrefundable.
The Goshen College Performing Arts Series debuted on Sept. 21, 1997. Since then, the college has hosted more than 100 concerts by some of the world's greatest performers as part of the program.
Editors: For more information about this release, to arrange an interview or request a photo, contact Goshen College Acting News Bureau Coordinator Alysha Landis at (574) 535-7762 or alyshabl@goshen.edu.
###
Goshen College, established in 1894, is a residential Christian liberal arts college rooted in the Anabaptist-Mennonite tradition. The college's Christ-centered core values – passionate learning, global citizenship, compassionate peacemaking and servant-leadership – prepare students as leaders for the church and world. Recognized for its unique Study-Service Term program, Goshen has earned citations of excellence in Barron's Best Buys in Education, "Colleges of Distinction," "Making a Difference College Guide" and U.S. News & World Report's "America's Best Colleges" edition, which named Goshen a "least debt college." Visit www.goshen.edu.