Notre Dame professor featured in upcoming Conference on Religion and Science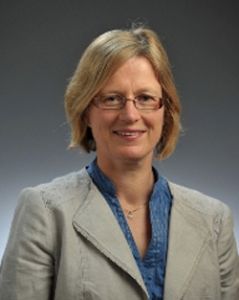 GOSHEN, Ind. – Goshen College's 12th annual Conference on Science and Religion will be held March 23-25, and will feature Notre Dame theologian and scientist Celia Deane-Drummond. The theme for this year's conference is "Re-Imaging the Divine Image: Humans and Other Animals." Deane-Drummond will offer a public lecture on Friday, March 23 at 7:30 p.m., titled "Re-Imaging the Divine Image: Freedom," and another on Saturday, March 24 at 10:30 a.m., titled "Re-Imagining the Divine Image: Virtue." Both lectures will take place in Goshen College's Church-Chapel.
Deane-Drummond has been professor of theology at the University of Notre Dame since August 2011. Her unique appointment is concurrent between the Department of Theology in the College of Arts and Letters and the College of Science. She was elected fellow of the Eck Institute for Global Health at the University of Notre Dame in September 2011.
Deane-Drummond graduated with a degree in natural sciences from Cambridge University and obtained a doctorate in plant physiology at Reading University prior to two postdoctoral fellowships at the University of British Columbia and Cambridge University. She subsequently took up a lectureship in plant physiology at Durham University before turning her attention more fully to theological study, obtaining an honors degree in theology and then a doctorate in systematic theology from Manchester University.
During her scientific career Deane-Drummond lectured both nationally and internationally, and published over 30 scientific articles. Since then, she has published numerous articles, books, edited collections and contributions to books, focusing particularly on the engagement of systematic theology and the biological sciences, alongside practical, ethical discussion in bioethics and environmental ethics. She has lectured widely both nationally and internationally on all areas relating theology and theological ethics with different aspects of the biosciences, especially ecology and genetics.
From 2000 to 2011 Deane-Drummond was professor of theology and the biological sciences at the University of Chester, and was director of the Center for Religion and the Biosciences that was launched in 2002. In May 2011, she was elected chair of the European Forum for the Study of Religion and Environment. She was editor of the international journal "Ecotheology" for six years.
Since 1992 Deane-Drummond has published as a single author or as an editor 22 books, as well as 33 contributions to books and 43 articles in areas relating to theology or ethics. Her more recent books include: "Ecotheology" (DLT/Novalis/St Mary's Press, 2008); "Christ and Evolution: Wonder and Wisdom" (Minneapolis: Fortress/London: SCM Press, 2009); "Creaturely Theology: On God, Humans and Other Animals," edited with David Clough (London: SCM Press, 2009); "Seeds of Hope: Facing the Challenge of Climate Justice" (London: CAFOD, 2010) and "Religion and Ecology in the Public Sphere," edited with Heinrich Bedford-Strohm (London, Continuum, 2011).
Goshen College's Religion and Science Conference is designed to provide maximum interaction with one of the principal thinkers in the dialogue between religion and science. A single invited speaker presents three lectures, two of which are open to the public. Small, moderated discussion sessions provide conference participants an opportunity to address topics from the lectures, and others, in conversation with the speaker.
Conference attendants and participants include pastors and interested laypersons, as well as academic scientists, mathematicians, theologians and students. For more information about the conference, visitwww.goshen.edu/religionscience.
Editors: For more information about this release, to arrange an interview or request a photo, contact Goshen College Acting News Bureau Coordinator Alysha Bergey Landis at (574) 535-7762 or alyshabl@goshen.edu.
### 
Goshen College, established in 1894, is a residential Christian liberal arts college rooted in the Anabaptist-Mennonite tradition. The college's Christ-centered core values – passionate learning, global citizenship, compassionate peacemaking and servant-leadership – prepare students as leaders for the church and world. Recognized for its unique Study-Service Term program, Goshen has earned citations of excellence in Barron's Best Buys in Education, "Colleges of Distinction," "Making a Difference College Guide" and U.S.News & World Report's "America's Best Colleges" edition, which named Goshen a "least debt college." Visit www.goshen.edu.