Goshen College unites to raise money for employee Habitat house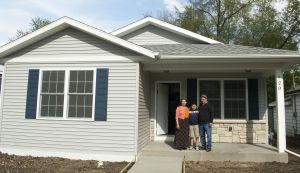 FINAL UPDATE (April 18, 2012):
The final numbers for the campus-wide fundraising and service to help build a Habitat for Humanity home for campus custodian Eddie Mayorga and his family are in!
$15,924: Total amount raised toward the construction of Mayorga's house
$11,481: Total amount raised by Goshen College alone
$4,443: Additional dollars donated through gifts in kind by various vendors
1,357.3: Hours of labor contributed towards the construction of the house
291: Students, faculty, and staff from Goshen College volunteered to build the home
Jan. 24, 2012: House groundbreaking
April 12, 2012: House dedicated
>>PHOTOS: See the progress of the build, from ground-breaking to dedication!
---
GOSHEN, Ind. – As nonprofit organizations struggle to cope with dwindling funds from the government, Goshen College is stepping in to help one of its own employees build a house through Habitat for Humanity.
Eddie Mayorga has worked for the college's Physical Plant Department for over 10 years, and he and his family were well on their way to receiving a house through Habitat for Humanity. The organization, which helps people in need build affordable housing, usually raises money for houses through federal loans and donations, but recent changes in federal policy have left a $25,000 gap in funds for the Mayorga family's house.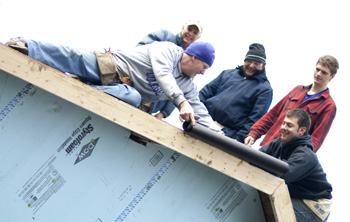 Since Mayorga and his family had completed most of the 500 volunteer hours required of homeowner partner families, Habitat decided to continue with the scheduled build, but asked Goshen College to help raise money and to help build the house.
On Jan. 24, a group of about 25 people gathered for the ground breaking of Mayorga's Habitat for Humanity home. The college has hosted several fund-raising events for the cause, including a talent show, an indoor marathon and a community lunch. The build will take place over the week of the college's spring break, beginning Feb. 25, and some students have opted to stay in town over the break to help.
Originally from Puerto Barrios, Guatemala, Mayorga lived in Los Angeles for 15 years after immigrating to the United States. There, he met his wife, Zoila, and moved to Goshen in 1998 with their son, who is now 13.
Before the Mayorgas' transition to Goshen, they hadn't heard of Goshen College or Mennonites. According to the Mayorgas, their move to the Midwest was motivated by a desire to leave the violence and turbulence of inner-city life. They were also attracted by the jobs in the Goshen area. Now, after 14 years in Goshen, the Mayorgas will have their own home.
During the groundbreaking, Mayorga said in Spanish, his first language, "If I could hug everyone I would. I primarily thank God for this opportunity and for the support the college is offering me."
Mayorga added, "I'm thankful to President Brenneman, my co-workers, the student body and the college as a whole for helping me and my family in this project."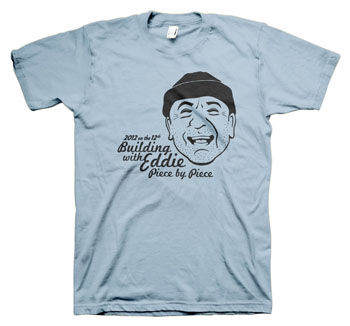 Student Life, the Athletic Department and student clubs have helped with promoting the fundraiser. T-shirts are also being sold, and all the profits from sales are going toward the house.
"This opportunity to work with Habitat is a great way to reflect our mission of servant leadership that we are focusing on this year," said Bill Born, vice president for student life. "We are happy to show support for one of our own employees."
 – By Jacob Maldonado Nofziger and Alysha Landis
Editors: For more information about this release or to arrange an interview, contact Goshen College News Bureau Director Jodi H. Beyeler at (574) 535-7572 or jodihb@goshen.edu.
### 
Goshen College, established in 1894, is a residential Christian liberal arts college rooted in the Anabaptist-Mennonite tradition. The college's Christ-centered core values – passionate learning, global citizenship, compassionate peacemaking and servant-leadership – prepare students as leaders for the church and world. Recognized for its unique Study-Service Term program, Goshen has earned citations of excellence in Barron's Best Buys in Education, "Colleges of Distinction," "Making a Difference College Guide" and U.S. News & World Report's "America's Best Colleges" edition, which named Goshen a "least debt college." Visit www.goshen.edu.