Toledo Symphony Orchestra and Goshen College choirs present Fauré's 'Requiem' with Grammy award winning conductor Vance George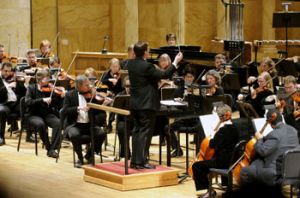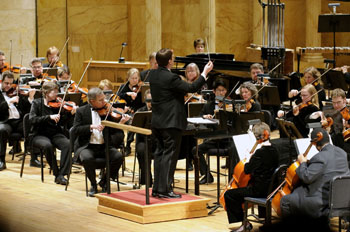 GOSHEN, Ind. – The Toledo Symphony Orchestra and Goshen College choirs will come together under the direction of Grammy award winning conductor and Goshen College alumnus Vance George to perform Fauré's "Requiem" and other choral masterpieces in a Performing Arts Series concert on Sunday, Feb. 19 at 7 p.m. in Goshen College Music Center's Sauder Concert Hall.
Tickets are available for $45, $40 and $25 and can be purchased at the Goshen College Welcome Center. Call (574) 535-7566, email welcomecenter@goshen.edu or visitwww.goshen.edu/tickets to reserve tickets.
The evening's program will consist of Gabriel Fauré's "Requiem," in addition to music by Bach, Haydn and Copland. The Toledo Symphony has been joining the Goshen College choirs in concerts for the past 16 years.
Based in Toledo, Ohio, the Symphony is in its 68th year of serving Indiana, Michigan and Ohio as it presents over 400 performances this season. In an effort to provide excellent music to the largest possible audience, the symphony remains an essential force in the quality of life throughout the region.
George graduated from Goshen College in 1955 with a degree in piano and voice. After attending Indiana University School of Music where he received both a master's degree and a doctor of musical arts degree in choral conducting, he continued on to work with several schools and choirs, including the University of Wisconsin, Kent State University and the Cleveland Orchestra Chorus. In 1983, he began his tenure as conductor of the San Francisco Symphony Chorus. Under his leadership, the chorus won four Grammy Awards, including Best Choral Album (for Brahms' "A German Requiem" and Orff's "Carmina Burana") and Classical Album of the Year. In 2001, the chorus won its first Emmy Award for its concert production of Stephen Sondheim's "Sweeney Todd." Now George is director emeritus of the chorus and works as a guest conductor, holding residencies and workshops around the country.
Seating for those with disabilities is available and the minimum age of attendees is 5 years old. Tickets are nonrefundable.
The Goshen College Performing Arts Series debuted on Sept. 21, 1997. Since then, the college has hosted more than 100 concerts by some of the world's greatest performers as part of the program.
Editors: For more information about this release, to arrange an interview or request a photo, contact Goshen College Acting News Bureau Coordinator Alysha Landis at (574) 535-7762 or alyshabl@goshen.edu.
###
Goshen College, established in 1894, is a residential Christian liberal arts college rooted in the Anabaptist-Mennonite tradition. The college's Christ-centered core values – passionate learning, global citizenship, compassionate peacemaking and servant-leadership – prepare students as leaders for the church and world. Recognized for its unique Study-Service Term program, Goshen has earned citations of excellence in Barron's Best Buys in Education, "Colleges of Distinction," "Making a Difference College Guide" and U.S. News & World Report's "America's Best Colleges" edition, which named Goshen a "least debt college." Visit www.goshen.edu.