Feb. 14 Afternoon Sabbatical program incorporates love for coffee and Baroque music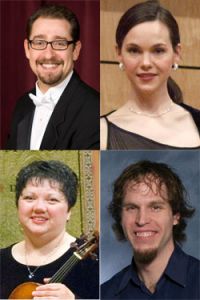 GOSHEN, Ind. – Love coffee? Well, so did J.S. Bach, so much so that he dedicated an entire piece of music to it. Join Community School of the Arts String Director Rosalyn Troiano, along with a "merry band" of musicians, for a performance of "The Coffee Cantata," by J.S. Bach, during the Afternoon Sabbatical "Goshen's Coffee Connection." The performance will be on Tuesday, Feb. 14 at 1 p.m. in Goshen College Music Center's Sauder Concert Hall, and is free and open to the public.
This humorous, coffee-loving cantata (essentially, a mini comedic opera) tells of an addiction to coffee, which was a pressing social problem in 18th century Leipzig, where Bach and his students first premiered the piece in Zimmermann's Coffeehouse.
"This will be a very unique performance," said Troiano. "Sauder Concert Hall will have an informal coffeehouse atmosphere for this staged concert. Much like Bach's original performance with the Collegium Musicum, or music guild, professors, students and area musicians will be combining their musical talent for this delightful piece."
Before the performance, Troiano will talk about the history of the piece and the relationships between the text and the music. The musicians will play on several period instruments, like the harpsichord, viola de gamba and other replicas of Baroque instruments, borrowed from the collection of Mary Anne Ballard, a local professional musician and member of The Baltimore Consort ensemble.
Event Info
Afternoon Sabbatical: "Goshen's Coffee Connection," with CSA String Director Rosalyn Troiano and a "merry band" of musicians
Date and time: Tuesday, Feb. 14 at 1 p.m.
Location: Goshen College Music Center's Sauder Concert Hall
Cost: Free and open to the public
---
The cantata will feature Goshen College students and faculty/staff as well as local professional musicians specializing in early music. The cantata will feature the following vocalists: Assistant Professor of Music Scott Hochstetler, baritone; Jeff Martin, tenor; and Danielle Svonavec, soprano. The instrumental ensemble will feature: Mary Anne Ballard, viola de gamba; Assistant Professor of Music Christopher Fashun, violin; sophomore Hillary Harder, violin; Adjunct Professor of Flute Rebecca Hovan, flute; Staff Accompanist Christine Larson Seitz, harpsichord; first-year Sam Smucker, violin; senior Elspeth Stalter, violin; Troiano, viola; and Benjamin Wiebe, cello.
A reception in the Music Center lobby will follow the program. Afternoon Sabbatical programs are usually on the second Tuesday of the month at 1 p.m. in Sauder Concert Hall or the College Church Fellowship Hall and are free and open to the public. For more information on the Afternoon Sabbatical series call the Goshen College Welcome Center at (574) 535-7566.
Future programs in the Afternoon Sabbatical series include:
Tuesday, March 13, 2012 at 1 p.m. in Sauder Concert Hall, Music Center
"Goshen Meets Broadway"
Featuring some of the best loved Tony Award winners, Sandra Hill, soloist and Community School of the Arts music teacher, will be joined by special guest Doyle Preheim, professor emeritus of music, and local students for an afternoon on Broadway in Sauder Concert Hall.
Tuesday, April 17, 2012 at noon in the College Mennonite Church Fellowship Hall
International meal and program featuring "Lithuania: Small Surprises," by Ervin Beck, professor emeritus of English, and Phyllis Beck
After a traditional Lithuanian meal, Ervin and Phyllis Beck, who taught for a year at LCC International University in Klaipeda, Lithuania, will share surprises from this interesting country. In this ancient land on the Baltic Sea, formerly a Soviet territory, they found an unspoiled seacoast, traditional villages and architecture, and people whose language most resembles the original Indo-European tongue. Cost: $20. Call (574) 535-7565 to register.
Tuesday, May 8, 2012
Spring Bus Trip – Chicago Art and Architecture
This trip to Chicago will feature art and architecture. In the morning the group will visit the Frank Lloyd Wright House and Studio in Oak Park to enjoy his amazing architectural style, then will return to Michigan Avenue to visit the Chicago Cultural Center housed in the beautiful 1897 Library, with its marbled and mosaic interiors and the world's largest art glass dome by Tiffany. In the late afternoon there will be a docent-led tour of the highlights of the Chicago Art Institute, including a visit to the recent addition of the Modern Art Wing. Cost: TBA. Call (574) 535-7565 to register.
Editors: For more information about this release, to arrange an interview or request a photo, contact Goshen College Acting News Bureau Coordinator Alysha Bergey Landis at (574) 535-7762 or alyshabl@goshen.edu.
###
Goshen College, established in 1894, is a residential Christian liberal arts college rooted in the Anabaptist-Mennonite tradition. The college's Christ-centered core values – passionate learning, global citizenship, compassionate peacemaking and servant-leadership – prepare students as leaders for the church and world. Recognized for its unique Study-Service Term program, Goshen has earned citations of excellence in Barron's Best Buys in Education, "Colleges of Distinction," "Making a Difference College Guide" and U.S.News & World Report's "America's Best Colleges" edition, which named Goshen a "least debt college." Visit www.goshen.edu.