Gregg Luginbuhl Exhibit: Recent Directions
Reception: Sunday January 20, 2-3:30 pm, Hershberger Gallery.
There will be a gallery talk following the reception.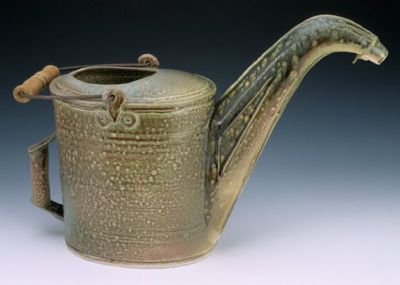 Show Statement:
The majority of the work in this exhibition will be in the ceramic medium. Approaches to this medium will include: functional and sculptural work in porcelain and stoneware; a polychrome white earthenware sculpture; a few raku, soda, and salt fired pieces; along with, one saggar-fired bottle. Featured are works from the Rustic Decanter Series, trompe l' oiel pouring vessels inspired by old metal fuel cans; plus, 100 porcelain cups, made in 100 days beginning January 1, 2012, which explore the design and function of this ubiquitous, but varied form.
Recent activity in kiln-formed warm glass will include colorful plates and sculptural works created using a variety of techniques. Commissioned bronzes will be represented by large photographs, with documentation, of the works in situ. Overall, this exhibition will not be single-minded in regard to style, media, or content; but rather, will represent divergent approaches. At 63, I think I have earned the right to call 10 years "recent", so I intend to represent the range of my activity over that span of time. Far from "retrospective" however, the majority the work in this show will have been created in the last few years.
Bio:
Gregg Luginbuhl has exhibited pottery and ceramic sculpture in more than 150 regional and national exhibitions, and his work is included in many public and private collections nationwide. He has received many awards, including 3 at Feats of Clay National in Lincoln, California, 4 at the Tri Kappa Regional Exhibition in Ft. Wayne, Indiana, and 35 in Ohio statewide juried shows. His work is included in 5 Ohio Museum collections. His exhibition record includes one-person shows in seven states, and he has been the juror for eighteen regional exhibitions.
An installation of eight ceramic plates with modeled imagery, The Creation Series, and three bronze sculptures, Jonah and the Whale, The Last First Draft, and Touching Home are permanently displayed on the campus of Bluffton University in Bluffton, Ohio. Mr. Luginbuhl received the Master of Fine Arts degree in Ceramics from the University of Montana in 1975, following a B.A. in Art from Bluffton in 1971. Now in his 37th year of university art teaching, Mr. Luginbuhl was first tenured at the University of Findlay, teaching there eight years, 1976-84, before returning to Bluffton University in the fall of that year. At Bluffton, he is currently Professor of Art, and Chair of the Art Department.