Goshen College graduate looks to a new year of seeking justice for refugees in Ecuador
GOSHEN, Ind. – The new year marked more than just a chance to reflect on 2011's unkept resolutions for David Shenk. Looking back on the last year, the 2009 graduate of Goshen College has a lot to consider and process. Now, one year into his two-year term of working with Colombian refugees in Quito, Ecuador, through the Mennonite Mission Network, he has encountered countless people whose stories have illustrated the best and worst in human nature.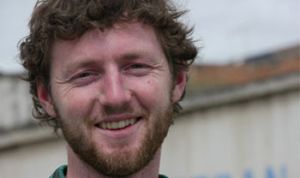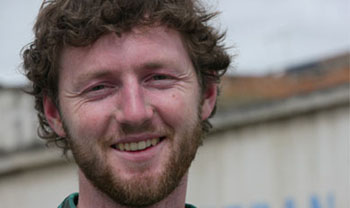 "Witnessing the effects of displacement, discrimination, violence and poverty has turned my life here into a daily struggle for justice alongside the victims of the Colombian conflict," he said.
Shenk grew up in Harrisonburg, Va., majored in Spanish and was a member of the men's soccer team while at Goshen College. "After graduating from Goshen College in December of 2009, I began working in Elkhart with the company InterCambio Express, but had my eyes set on voluntary service in Latin America in the near future," said Shenk.
Among his many roles in Ecuador, perhaps the most important is being a friendly face to Colombian refugees who are forced to leave their homes because of threats from the paramilitary, guerilla groups and the Colombian army. With the refugees come stories of the lives they left behind in Colombia and the struggles they have yet to face as they begin to establish themselves in a new place.
There is Juan, who was forced to flee his home in Colombia and leave his wife and two children because paramilitary groups threatened to kill him. After he left, members of the paramilitary occupied his home to wait for his return, and began to show torture videos to Juan's 5-year-old son. Fortunately, his wife was able to escape with their children, and now the family is living in hiding in Colombia and is internally displaced.
Shenk met Juan and his family while on a trip in Colombia. "Now reunited, they're currently living in hiding in the safe house where I met them, and are struggling to get by as they live in fear of being found, yet haven't lost hope of returning to their village someday," wrote Shenk in an article published in November 2011.
Photo providedDavid Shenk plays guitar for children at a peace education workshop in Quito, Ecuador. Shenk helps put together workshops for neighborhood children every month.
Then there's the family whose members lives in anxiety and fear. Shenk posted on his blog in November, "Here in Quito as the husband of a family was waiting in line to receive humanitarian aid, he spotted the same person from the paramilitary group who had threatened to kill him in Colombia. Additionally, the mother of the husband, who is still living in Colombia, called the family in Ecuador saying that two anonymous men had knocked on her door and had asked, using the husband's full name, when he would be coming back from Quito [despite telling only two trustworthy family members that they were going to Quito before they left a few months ago]. Apart from this, they found out that in the neighborhood where they were living among other Colombians, there were several former members of paramilitary groups."
These are just two Colombian families of the over five million people displaced and tens of thousands who have been killed, many in massacres that the paramilitary, armed guerilla groups and the Colombian army have committed in communities throughout the country. Those who can flee to Ecuador seek help, and Shenk assists them in their resettlement.
So far, he said it has been an experience full of challenges. "The Colombian conflict is a unique situation, yet it belongs to a broader global system of injustice and oppression that causes suffering for countless human beings and leads to the destruction of our planet," he said. "In the face of this system, I've learned the importance of what it means to live in solidarity, walk with the oppressed and love my neighbor."
Go to Shenk's blog to learn more about his experience and work in Ecuador: davidinquito.blogspot.com.
 – By Alysha Landis
Editors: For more information about this release, to arrange an interview or request a photo, contact Goshen College Acting News Bureau Coordinator Alysha Bergey Landis at (574) 535-7762 or alyshabl@goshen.edu.
### 
Goshen College, established in 1894, is a residential Christian liberal arts college rooted in the Anabaptist-Mennonite tradition. The college's Christ-centered core values – passionate learning, global citizenship, compassionate peacemaking and servant-leadership – prepare students as leaders for the church and world. Recognized for its unique Study-Service Term program, Goshen has earned citations of excellence in Barron's Best Buys in Education, "Colleges of Distinction," "Making a Difference College Guide" and U.S. News & World Report's "America's Best Colleges" edition, which named Goshen a "least debt college." Visit www.goshen.edu.