Alumna pops up a new career rooted in Goshen's values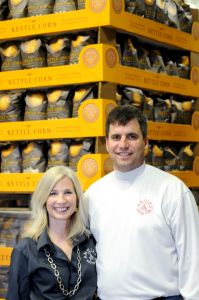 BY RICHARD R. AGUIRRE
Student. Hospital nurse. Mission worker. Graduate student. Psychiatric nurse. Small-business owner. National snack-food retailer. And namesake for a national brand.
Angie (Miller) Bastian '83 has played all those roles in a varied life that has taken her from farm life to national notoriety. Bastian and her husband, Dan, a former teacher, have built their former garage business into Angie's Kettle Corn, a multi-million company rooted in the values of family, treating people fairly and giving back to the community. They sell their snack food in 50 states through such retailers as Costco, Martin's, Target and Whole Foods.
It's not a career path Angie Bastian imagined growing up in Elkhart County. Switching from a nursing to a business career also prompted her to reconsider her definition of service.
"When you're a nurse or a teacher you feel like there's purpose and meaning in that career. When we started out in this endeavor to make kettle corn, we thought: 'Where's the meaning in that?' But what Dan and I have come to realize, is that it's a vehicle. The meaning is how we conduct ourselves in business and how we intersect in people's lives."
Angie Bastian was born at Goshen General Hospital to David Ray and Rosie Miller. She grew up in Jefferson Township and attended Pleasant View Mennonite Church. After graduating from Northridge High School in 1978, Bastian wasn't sure what she wanted to do, besides Mennonite Voluntary Service.
So she took a year off and lived with her aunt and uncle in Colorado Springs, Colo. "They were both Goshen College graduates and my aunt was a nurse and she said, 'You should go into nursing. You should go to Goshen College.' I said, 'OK. I'll go check out Goshen.' I liked the campus. It was the right fit for me and I loved my time at Goshen," she said during a campus visit in September.
Bastian said her Study-Service Term "absolutely changed" the way she looked at everything.
"I grew up very sheltered on a small farm and I had never been out of the country. I had never been to a Catholic church before. On SST, I was with families. I loved it, but I was scared at the same time," Miller said. "When you get to know other people that are different than yourself, it changes opinions. There is no longer 'the other.' You become one in that way; you're with them and they're with you. I understood myself as a global citizen instead of just an American."
She received her nursing degree from Goshen College in 1983. After working for a few years at Sarasota (Fla.) Memorial Hospital, she did a year of Mennonite Voluntary Service. She then earned a master's degree in psychiatric nursing and gerontology from Emory University.
She met her husband, a graduate of St. John's University in Minnesota, while working at a hospital that served an Indian reservation in New Mexico. They were kindred spirits who shared values consistent with Goshen's commitment to service, social justice and accepting other cultures.
After getting married, the Bastians lived for a while in New Mexico and then Florida before settling in Dan's hometown of Mankato, Minn. to raise their children and pursue their careers – Dan as a teacher and coach and Angie as a psychiatric nurse.
They began Angie's Kettle Corn in 2001 as a side business in their garage when their two children, Aunikah and Tripp, were just 5 and 3. They wanted to build a college fund for their children and to show them the value of hard work. They purchased kettle corn equipment they found on the Internet and financed it with zero percent credit cards. They sold their product at fairs and festivals.
Their big break came when they decided to give Minnesota Vikings players and coaches free bags of kettle corn to enjoy after a long day at training camp in Mankato. Team members liked the kettle corn so much, the Bastians were offered the chance to pay a sponsorship fee to become an official snack product for the team. It was a big investment, but the exposure they received from the sponsorship helped them to expand the business and eventually move indoors and begin manufacturing for retail sales.
The Bastian now work only for the company; Dan focuses on operations and sales and Angie coordinates marketing and public relations. They have 150 full-time employees and can produce 80,000 bags a day of kettle corn in three varieties — Classic, Lite and Caramel. Their products are still made in real kettles with natural ingredients and no artificial flavors, colors or preservatives — allergen free, certified gluten free and certified Kosher.
Although they have appeared on the "Martha Stewart Show" and been featured in such national publications as Family Circle, Good Housekeeping and Redbook, Angie Bastian said their values have remained the same. "We both care deeply about social justice issues and the way we run our company has to do with service.
"Our business won an award as a Top-100 work place in Minnesota this past year and as a top family business and as an emerging company this year, too. Our employees like their work. I think it's partially because we don't ask employees to do anything we wouldn't do. It's a partnership with democracy in the workplace. And I see that as the way that Goshen translated Culture for Service."
The Bastians donate their time and resources to many community fundraising events and programs, including March of Dimes, Kids Against Hunger, Salvation Army, and the YMCA. Still, Angie Bastian said that she takes greatest pride in the company's impact on the community.
"We work with the drug court with people who need a job, who are on probation and need a last chance and aren't doing well. We work with their probation officers and we've had some people turn their lives around. They're going to college. They've been promoted. They're clean. They're sober. The way they see their life is different and that all came from the community supporting them and our piece of that was a culture where they could work and feel that they were understood and supported and we paid them," Miller said. "You can serve in many different ways. In nontraditional service careers, you can still serve."