A Goshen College family tradition born of love and faith
BY JEFF HOCHSTETLER '08
When I was growing up, an annual winter tradition for the Rohrer family was driving from eastern Ohio to Goshen to visit "the cousins" – those in the family enrolled at Goshen College. All my aunts and uncles stayed together at the old Holiday Inn. I chased my brothers inside College Mennonite Church and the Roman Gingerich Recreation-Fitness Center or did "donuts" in the Holiday Inn parking lot in Uncle John's Buick. Visiting my cousins' dorm rooms and small group houses filled me with excitement and jealousy.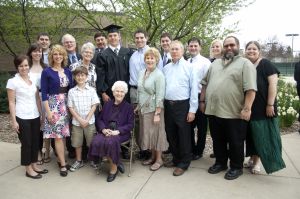 Over three generations, 26 family members and spouses have attended Goshen College and 15 of the 17 grandchildren have graduated from GC. An aunt and an uncle met their spouses at GC, as did several cousins. Such deep loyalty to Goshen though, arose from modest beginnings.
My grandfather, Milton Rohrer, was a farm boy from rural Ohio and attended GC briefly from 1928 to 1929. He often said that he much preferred working in Professor John Umble's nearby cornfield than sitting in class. That interest led to his operating a successful potato and dairy farm. Although Grandpa was not an eager student at that time, he recognized the value of education.
My grandmother, Ella Amstutz Rohrer, dreamed of becoming a teacher but didn't have the same opportunity my grandfather had. Coming from a family of 12, her family did not have enough money to send her to college during the Great Depression. Instead, following her high school graduation in 1931, she moved to Canton, Ohio where, for $10 a week, she cooked and cleaned in the homes of Canton's wealthy. To assist with family expenses, she kept only $1 a week and sent the rest home to her family.
After both returned home to Wayne County, Milton and Ella started dating and then married in 1935. Recognizing the growing importance of education, Grandma recalls that before she and Milton even had children, they had conversations about the importance of their children receiving a college education. By 1972, all five of their children graduated from college and three later received master's degrees and two earned Ph.D.s.
Milton and Ella then turned their attention to securing their grandchildren's educational futures. In the early 1980s, they had two grandchildren at Goshen, when Dan Kauffman, director of college relations from 1971 to 1986, approached them about helping build the college's endowment. Seizing the opportunity to contribute dollars to directly benefit their grandchildren at the college, Milton and Ella promised a "living endowment" by encouraging and financially supporting all of their grandchildren who chose to attend a Mennonite college. Citing studies that showed that Mennonites who attend Mennonite colleges were more likely to remain active in the church, they decided that supporting Goshen was the way to encourage the educational and spiritual development of their grandchildren.
In May, my 99 year-old grandmother, Ella Amstutz Rohrer, traveled to Goshen to see her youngest grandchild, my youngest brother, Eric, graduate from Goshen College. Standing after Commencement with other Rohrer family members who came to celebrate with Eric, it became clear how much of my family's story has been shaped by Milton and Ella's faithfulness and love.
Jeff Hochstetler, the student apartments manager at Goshen College, is pursuing a Master of Divinity at Associated Mennonite Biblical Seminary.