Online Advent devotions with Goshen College student and faculty voices begin Nov. 21 at blog.goshen.edu/devotions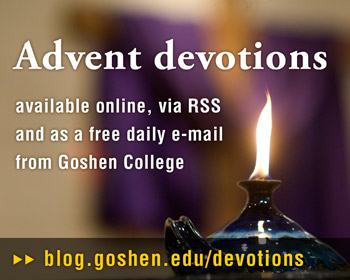 GOSHEN, Ind. – As churches and individual Christians around the world prepare to celebrate Christ's birth, Goshen College is again offering an online spiritual resource to help believers make time and space in their hearts and minds to welcome Advent and celebrate Christmas.
Beginning Nov. 21 (the Monday prior to the first Sunday in Advent) and culminating on Christmas Day, Goshen College students, faculty and staff will provide weekday reflections based on the Sunday's upcoming lectionary Scripture passages, available online at blog.goshen.edu/devotions, by daily e-mail or via an RSS feed. Many writers will reflect on the Advent theme: "Awesome Deeds We Do Not Expect," taken from Mennonite Church USA worship resources.
Organizers intend the devotions to provide a moment of pause and peace, sharing the thoughts of individual believers to enhance the personal reflections of readers. The short reflections could be used as a centering tool at the start of a day or a way to wind down in the evening. Either way, the writings and Scripture passages can help Christians concentrate specifically on the meaning and mystery of the Advent season.
The popularity of the devotions continues to grow each year and there are now almost 9,000 online subscribers, representing many different denominational backgrounds and countries. And when "Advent devotions" is searched on Google, Goshen College devotions are first on the list. Since 2001, Goshen College annually offers online devotions to celebrate Advent and Lent, special seasons of the church calendar.
Editors: For more information about this release, to arrange an interview or request a photo, contact Goshen College Acting News Bureau Coordinator Alysha Bergey Landis at (574) 535-7762 or alyshabl@goshen.edu.
### 
Goshen College, established in 1894, is a residential Christian liberal arts college rooted in the Anabaptist-Mennonite tradition. The college's Christ-centered core values – passionate learning, global citizenship, compassionate peacemaking and servant-leadership – prepare students as leaders for the church and world. Recognized for its unique Study-Service Term program, Goshen has earned citations of excellence in BarronÕs Best Buys in Education, "Colleges of Distinction," "Making a Difference College Guide" and U.S. News & World Report's "America's Best Colleges" edition, which named Goshen a "least debt college." Visit www.goshen.edu.