Goshen College to present the modern tragedy "A View from the Bridge" for fall mainstage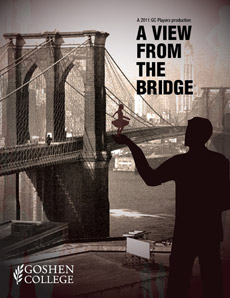 GOSHEN, Ind. – The Goshen College Theater Department will present Arthur Miller's "A View from the Bridge" for the fall mainstage production, part of the 2011-12 "Strangers No More" season. The production, directed by Tamera Izlar, assistant professor of theater, will be presented on Nov. 4, 5, 11 and 12 at 8 p.m. and on Nov. 6 (ASL interpreted) and 13 at 3 p.m. in Goshen College's Umble Center.
Classified by critics as a modern tragedy, "A View from the Bridge" focuses on the strengths and imperfections of the domestic world of middle-class individuals. Taking place in an Italian-American neighborhood near the Brooklyn Bridge in New York City in the 1950s, this play is a love story gone wrong.
Eddie Carbone, an Italian-American longshoreman, lives in Red Hook, Brooklyn, with his wife, Beatrice and his niece, Catherine. He is a pillar in the community who is devoted to and protective of his family. After his wife's cousins, Marco and Rodolpho, arrive in America illegally, escaping the poverty of Sicily, Eddie's troubles begin.
As Rodolpho and Catherine fall in love, Eddie's adoration for his niece is no longer touching as it turns into obsession. Eddie becomes increasingly terrifying as his love and loyalty for his niece is challenged by his wife and the cousins. Eddie works adamantly to retain his community authority and defend his reputation.
The New York News described the play as "an intensely absorbing drama, sure of itself every step of the way. It makes no false moves, wastes no time and has the beauty that comes from directness and simplicity."
The cast for "A View from the Bridge" includes the following students: seniors Emily Bowman (Millersburg, Ind.), Billy Funk (Gallup, N.M.), Matt Lehman (Kidron, Ohio), Paul Manickam (Portland, Ore.), Jay Mast (Goshen) and Phil Weaver-Stoesz (Goshen); juniors Vanessa Jones (Dolton, S.D.) and Nate Vader (Mechanicsburg, Pa.); sophomores Sara Klassen (Goshen) and Sarah Lake-Rayburn (Champaign, Ill.) and first-years Benjie Aguilera (Paraguay), Brett Conrad (Lakewood, Colo.), Angel Reyes, Jr. (Leesburg, Ind.) and Landon Slabaugh (Kalona, Iowa).
The production team includes faculty/staff: Tamera Izlar, director, Doug Liechty Caskey, producer, and Andrew Moeggenborg, technical director and set designer. The production team also includes the following students: seniors Emily Bowman (Millersburg, Ind.), acting coach, Kelly Frey (Shipshewana, Ind.), hair and make-up designer, Josh Hofer (Dolton, S.D.), assistant to the director and dramaturgy, Aaron Kaufmann (Tiskilwa, Ill.), light designer and master electrician, Matt Lehman (Kidron, Ohio), costume shop manager, Brittany Lentz (Chambersburg, Pa.), ASL interpreter, Sarah Lerch (Spring Valley, N.Y.), stage manager and Phil Weaver-Stoesz (Goshen), master carpenter; juniors Emma Brooks (Littleton, Colo.), poster/program design, Maryn Munley (Mundelein, Ill.), costume designer and Sarah Rutt (Lancaster, Pa.), ASL interpreter; sophomores Joel Kawira (Shirati, Tanzania), sound designer, Gwen Stephan (Goshen), light board operator and Angela Troyer (Elkhart, Ind.), assistant stage manager and first-years Rhianna Cockrell (Rileyville, Va.), props manager, Melanie Hertzler (Goshen), props manager, Nereida Jimenez (Crown Point, Ind.), sound board operator and Cody Steele (Albion, Ind.), assistant stage manager.
The approximate run time for the show is two hours, including a 10-minute intermission. Umble Center is accessible to wheelchairs and people with other physical limitations. American Sign Language interpretation will be offered during the Nov. 6 performance of the play.
Tickets cost $8 for general admission and $5 for students and seniors and can be purchased in advance by calling (574) 535-7566, emailing welcomecenter@goshen.edu or visiting www.goshen.edu/tickets, or at the Umble Center Box Office one hour before the performance.
Editors: For more information about this release, to arrange an interview or request a photo, contact Goshen College Acting News Bureau Coordinator Alysha Bergey Landis at (574) 535-7762 or alyshabl@goshen.edu.
###
Goshen College, established in 1894, is a residential Christian liberal arts college rooted in the Anabaptist-Mennonite tradition. The college's Christ-centered core values – passionate learning, global citizenship, compassionate peacemaking and servant-leadership – prepare students as leaders for the church and world. Recognized for its unique Study-Service Term program, Goshen has earned citations of excellence in Barron's Best Buys in Education, "Colleges of Distinction," "Making a Difference College Guide" and U.S.News & World Report's "America's Best Colleges" edition, which named Goshen a "least debt college." Visit www.goshen.edu.