Notre Dame organist to present recital in GC's Rieth Recital Hall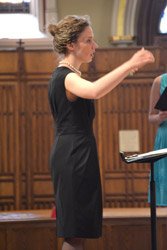 GOSHEN, Ind. – Mary Catherine Levri, organist and assistant director at the University of Notre Dame Basilica of the Sacred Heart, will present a recital of organ music on Sunday, Oct. 30 at 4 p.m. in Goshen College Music Center's Rieth Recital Hall. Levri will present a recital of music from the 16th through 20th centuries by Bruhns, Weckman, Brahms, Frescobaldi, Bach and more.
Levri graduated from the University of Notre Dame in 2006 with a degree in the program of liberal studies and organ performance. She also graduated from the Pontifical John Paul II Institute for Studies in Marriage and Family with a master's in theological studies. In 2011, she received a master's of sacred music from Notre Dame. She played two degree recitals in March and December 2010 on the Fritts organ at the DeBartolo Performing Arts Center.
Levri is now the assistant director of the Notre Dame Liturgical Choir and an assistant organist at the Basilica of the Sacred Heart on campus at Notre Dame. She has previously served as organist and choir director in parishes in Pennsylvania, Maryland and Virginia.
The Rieth Recital Hall organ, designed by Taylor and Boody, is based upon 18th century North German organ-building principles. It features more than 1,600 pipes, and a case of carved solid white oak. The temperament, Bach-Lehman, is a hypothetical reconstruction of Johann Sebastian Bach's preferred system and was re-discovered by GC alumnus Dr. Bradley Lehman Ô86 in 2004 and published in the February and May 2005 issues of Early Music. This instrument was the first organ since the 18th century to employ this tuning in its construction. The organ was dedicated in a series of concerts and events May 1 through May 8, 2005.
Editors: For more information about this release, to arrange an interview or request a photo, contact Goshen College Acting News Bureau Coordinator Alysha Bergey Landis at (574) 535-7762 or alyshabl@goshen.edu.
###
Goshen College, established in 1894, is a residential Christian liberal arts college rooted in the Anabaptist-Mennonite tradition. The college's Christ-centered core values – passionate learning, global citizenship, compassionate peacemaking and servant-leadership – prepare students as leaders for the church and world. Recognized for its unique Study-Service Term program, Goshen has earned citations of excellence in Barron's Best Buys in Education, "Colleges of Distinction," "Making a Difference College Guide" and U.S.News & World Report's "America's Best Colleges" edition, which named Goshen a "least debt college." Visit www.goshen.edu.