Carolina Chocolate Drops will pick, fiddle and sing during Oct. 25 concert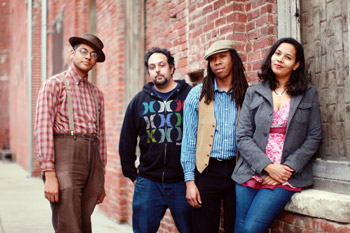 GOSHEN, Ind. – Catch one of the few remaining African American string bands when the Carolina Chocolate Drops takes part in Goshen College's Performing Arts Series on Tuesday, Oct. 25 at 7:30 p.m. in the Music Center's Sauder Concert Hall.
Tickets are on sale for $30, $20 and $15 at the Goshen College Welcome Center, and there are still a few left. Call (574) 535-7566 or email welcomcenter@goshen.edu for more information. Tickets can also be purchased online at www.goshen.edu/tickets.
The Carolina Chocolate Drops is a Grammy-winning old-time string band from Durham, N.C. The band consists of three members – Rhiannon Giddens, Dom Flemons and Justin Robinson – who sing and swap instruments, including banjo, fiddle, guitar, harmonica, snare drum, bones, jug and kazoo.
In the summer of 2005, the three young musicians were frequent visitors to the old-time fiddler Joe Thompson. In his 80s, Thompson had a short bowing style that he inherited from generations of family musicians. He learned to play a wide range of tunes while sitting on the back porch with other players after a day of fieldwork. It was these lessons that Thompson passed on to Giddens, Flemons and Robinson.
When the three students later decided to form a band, they made it a tribute to Thompson, bringing his music back out of the house and into the public again. Their name is a reference to the Tennessee Chocolate Drops, the three African American brothers who lit up the music scene in the 1930s. The Carolina Chocolate Drops took and experimented with the things they learned from Thompson as they played wherever people would listen, from farmer's markets to local music festivals. As the band gained a following and got more experience, they developed their unique style, bridging the gap between traditional and popular music. Rolling Stone Magazine described the Carolina Chocolate Drops' style as "dirt-floor-dance electricity."
The band has released three albums and has opened for Taj Mahal. Their latest album, "Genuine Negro Jig," was released in 2010 and won a Grammy for Best Traditional Folk Album. The Carolina Chocolate Drops have performed on NPR's Mountain Stage and Fresh Air, BBC Radio and at the 2010 Bonnaroo music festival in Manchester, Tenn. In 2011, the band announced that beat boxer Adam Matta and multi-instrumentalist Hubby Jenkins would be joining the band, while Justin Robinson would be departing.
Seating for those with disabilities is available and the minimum age of attendees is 5 years old. Tickets are nonrefundable.
The Goshen College Performing Arts Series debuted on Sept. 21, 1997. Since then, the college has hosted more than 100 concerts by some of the world's greatest performers as part of the program.
Editors: For more information about this release, to arrange an interview or request a photo, contact Goshen College Acting News Bureau Coordinator Alysha Bergey Landis at (574) 535-7762 or alyshabl@goshen.edu.
###
Goshen College, established in 1894, is a residential Christian liberal arts college rooted in the Anabaptist-Mennonite tradition. The college's Christ-centered core values – passionate learning, global citizenship, compassionate peacemaking and servant-leadership – prepare students as leaders for the church and world. Recognized for its unique Study-Service Term program, Goshen has earned citations of excellence in Barron's Best Buys in Education, "Colleges of Distinction," "Making a Difference College Guide" and U.S. News & World Report's "America's Best Colleges" edition, which named Goshen a "least debt college." Visit www.goshen.edu.