Meet the force behind the revitalization of Goshen downtown during October's Afternoon Sabbatical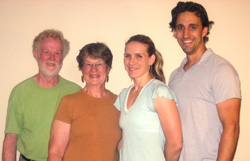 Date and time: Tuesday, Oct. 18 at 1 p.m.
Location: Goshen College Music Center's Sauder Concert Hall
Cost: Free and open to the public
Dave Pottinger, Faye Peterson and their daughter Maija and son-in-law Jeremy Stutsman will host an Afternoon Sabbatical, "The Revitalization of Goshen Downtown," on Tuesday, Oct. 18 at 1 p.m. in Goshen College Music Center's Sauder Concert Hall. The event is free and open to the public.
The aesthetics of downtown Goshen has been a passion of this family for many years as they purchased and renovated many of the buildings in the center of town, birthed businesses, encouraged artist organizations and recently led a streetscape implementation. During this Afternoon Sabbatical, the family will share the vision that has motivated them and the steps in their journey to make Goshen a beautiful go-to place.
Even amidst the economic downturn, Goshen downtown has continued to thrive. "The community really supports local businesses," said Stutsman. "People travel less now, so they're spending their money here in Goshen instead of spending it other places."
Before the family became involved in revitalizing downtown Goshen, Stutsman said the area was on the verge of becoming blighted, with the exception of a few staple stores. Since then, he said, there has been an increased arts movement and various new restaurants and businesses. Between the four of them, the family has renovated many popular downtown businesses, including Jules Boutique, The Constant Spring, Better World Books, The Electric Brew, Kelly Jae's Café (and Kelly Jae's Next Door), Il Forno and Mattern's Butcher Shop and Corner Deli.
"The area has become a real spot to spend time with a lot of diversity," he said. "It's not just retail stores and restaurants. There are law firms and accounting offices, and people who work there provide business for the other stores. It's a good mix that feeds off each other."
A reception in the Music Center lobby will follow the program. Afternoon Sabbatical programs are usually on the second Tuesday of the month at 1 p.m. in Sauder Concert Hall or the College Church Fellowship Hall and are free and open to the public. For more information on the Afternoon Sabbatical series call the Goshen College Welcome Center at (574) 535-7566.
Future programs in the Afternoon Sabbatical series include:
Tuesday, Nov. 8, 2011 at 1 p.m., Sauder Concert Hall, Music Center
"From Laos to Goshen," by Tavi Mounsithiraj, GC men's soccer coach
The Mounsithiraj family fled from Laos in 1978 when the Communists took over the country. After a year in a refugee camp, the family eventually settled in Goshen. Tavi will share the story of leaving one homeland as a 13-year-old boy and adjusting to life in another culture where today he is the head coach of Goshen College men's soccer, leading his team to national recognition.
Tuesday, Dec. 6, 2011, at 1 p.m. in Sauder Concert Hall, Music Center
"Celebrating Christmas in Art," by Merrill Krabill, professor of art and department chair
At Christmas Jesus' coming to earth is celebrated. How might artists help reveal some of what it means to encounter the divine? God in the form of a human infant seems to be a very different thing than God as the ruler of all. Krabill will explore these thoughts with images from the works of a wide variety of artists.
Editors: For more information about this release, to arrange an interview or request a photo, contact Goshen College Acting News Bureau Coordinator Alysha Bergey Landis at (574) 535-7762 or alyshabl@goshen.edu.
###
Goshen College, established in 1894, is a residential Christian liberal arts college rooted in the Anabaptist-Mennonite tradition. The college's Christ-centered core values – passionate learning, global citizenship, compassionate peacemaking and servant-leadership – prepare students as leaders for the church and world. Recognized for its unique Study-Service Term program, Goshen has earned citations of excellence in Barron's Best Buys in Education, "Colleges of Distinction," "Making a Difference College Guide" and U.S.News & World Report's "America's Best Colleges" edition, which named Goshen a "least debt college." Visit www.goshen.edu.