Only a few more tickets left for Grammy-winning Mary Chapin Carpenter's Sauder concert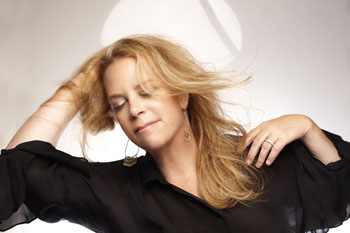 GOSHEN, Ind. – Grammy Award-winning American folk singer-songwriter Mary Chapin Carpenter is coming to Goshen and will take the Music Center's Sauder Concert Hall stage for her Performing Arts Series concert on Tuesday, Oct. 11 at 7:30 p.m., and there are only a few tickets left.Tickets are on sale for $45, $40 and $25 and are available for purchase at the Goshen College Welcome Center. Call (574) 535-7566 or email welcomecenter@goshen.edu for more information. Tickets are also available to purchase online at www.goshen.edu/tickets.
Chapin has sold more than 13 million records and has won five Grammy awards (with 15 nominations) for her unique hybrid of country, folk, acoustic, rock and blues. She is the only artist to have won four consecutive Grammy Awards for Best Female Country Vocal Performance, which she received from 1992 to 1995. Her songs range from humorous country-rock to slow, introspective ballads about social issues, and all of them speak to life's most personal details and universal themes.
The New York Times called her recent performance in Lincoln Center's American Songbook series a "spellbinding concert performed in the low, steady voice of someone confiding her thoughts in a journal." Carpenter calls her latest album, "The Age of Miracles," a personal exploration of regret and resilience.
Carpenter, a native of Princeton, N.J., was born in 1958 and lived in Japan from 1969 to 1971 before moving to Washington, D.C. Between her years at Brown University, she would play at local bars and clubs in the Washington, D.C. area.
After college, Carpenter continued to contribute to Washington's music scene and soon met guitarist John Jennings, who would become her co-producer and long-time collaborator. A few years later, she recorded a demo tape that led to a deal with Columbia Records, where she spent nearly 20 years, until she signed with Rounder Records in 2006.
Carpenter was recently honored with The Americana Association's "Spirit of Americana Free Speech in Music Award," which recognizes artists who have used their work to raise awareness and promote free speech. She has performed at the White House, during Superbowl XXXI and at the 2000 Democratic National Convention. Her songs have been featured in various films, including "Tin Cup," "My Best Friend's Wedding," "Fly Away Home" and "Dead Man Walking." She has been a guest on several television and radio programs, including "A Prairie Home Companion," "Sesame Street," NPR's "Weekend Edition," "The Late Show with David Letterman" and "The Today Show."
Seating for those with disabilities is available and the minimum age of attendees is 5 years old. Tickets are nonrefundable.
The Goshen College Performing Arts Series debuted on Sept. 21, 1997. Since then, the college has hosted more than 100 concerts by some of the world's greatest performers as part of the program.
– By Alysha Landis
Editors: For more information about this release, to arrange an interview or request a photo, contact Goshen College News Bureau Director Jodi H. Beyeler at (574) 535-7572 or jodihb@goshen.edu
###
Goshen College, established in 1894, is a residential Christian liberal arts college rooted in the Anabaptist-Mennonite tradition. The college's Christ-centered core values – passionate learning, global citizenship, compassionate peacemaking and servant-leadership – prepare students as leaders for the church and world. Recognized for its unique Study-Service Term program, Goshen has earned citations of excellence in Barron's Best Buys in Education, "Colleges of Distinction," "Making a Difference College Guide" and U.S.News & World Report's "America's Best Colleges" edition, which named Goshen a "least debt college." Visit www.goshen.edu.