Goshen College's longest serving employee recognized as leader in service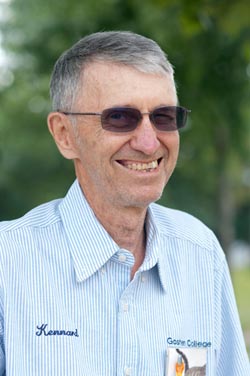 GOSHEN, Ind. – Kennard Martin came to Goshen College in 1961 to work in the dining hall for two years for his 1-W conscientious objector alternative service. Fifty years later, he's still serving the college by mowing the lawns and plowing snow, making him the longest working employee at Goshen College.
The college recognized his 50 years of service during its opening convocation on Aug. 31 when Goshen College President Jim Brenneman highlighted Martin's years of servant leadership, one of the college's core values which is a focus for the year, by naming the 2011-12 school year "The Year of Kennard Martin, Leader in Service."
"He embodies a servant's heart. His is a labor of love," Brenneman said of Martin. "He gets up before dawn, stays late when needed. He has mown our lawns, plowed our walks in the winter, day in and day out, for 50 years."
Martin worked in various jobs on campus before securing his current position with the Physical Plant's grounds crew. His first position was in the dining hall, washing dishes and doing custodial work. He then did custodial and grounds work for the Athletic Department for 20 years before moving to his current position on the grounds crew in the Physical Plant.
His years of experience make him an invaluable worker. When he's not plowing snow or mowing the lawns (he's mowed a total of about 49 square miles during his tenure), Martin does light maintenance work.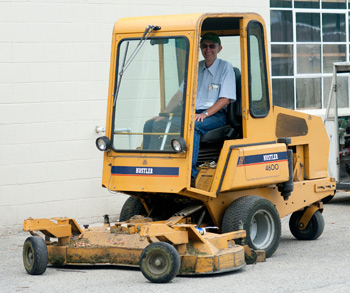 Craig Johnson, the Physical Plant grounds supervisor who has worked with Martin for more than 20 years, said, "He's a wealth of knowledge and we go to him whenever we don't know how to handle a situation."
Martin has seen many changes working on campus for 50 years. He has seen several buildings go up on campus, including the Good Library, Umble Center, Roman Gingerich Recreation-Fitness Center and the Music Center. But what hasn't changed is his love for the outdoors and his job. "I love the changing of the seasons and the energy student activity brings on campus," said Martin, who has two adult children, Maria Shisler and Bryan Martin, with his wife Chris.
He said he was overwhelmed and surprised when President Brenneman called his name to honor him in front of the campus community at the convocation and presented him with a plaque naming 2011-12 "The Year of Kennard Martin, Leader in Service," as the room, filled with students and his colleagues, gave him a standing ovation.
Even after 50 years, Martin does not have any immediate plans to stop. "I'm just trying to make things safe and beautiful for the campus," he said.
– By Alysha Landis
Editors: For more information about this release, to arrange an interview or request a photo, contact Goshen College News Bureau Director Jodi H. Beyeler at (574) 535-7572 or jodihb@goshen.edu.
### 
Goshen College, established in 1894, is a residential Christian liberal arts college rooted in the Anabaptist-Mennonite tradition. The college's Christ-centered core values – passionate learning, global citizenship, compassionate peacemaking and servant-leadership – prepare students as leaders for the church and world. Recognized for its unique Study-Service Term program, Goshen has earned citations of excellence in Barron's Best Buys in Education, "Colleges of Distinction," "Making a Difference College Guide" and U.S. News & World Report's "America's Best Colleges" edition, which named Goshen a "least debt college." Visit www.goshen.edu.