Goshen College Afternoon Sabbatical line-up for 2011-12 announced
GOSHEN, Ind. – The 2011-12 line-up of lectures, performances and special trips that are part of the Goshen College Afternoon Sabbatical program will include: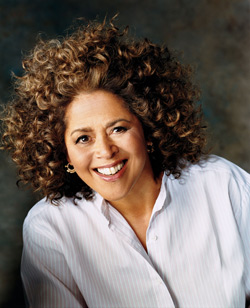 Tuesday, Sept. 13, 2011 at 7:30 p.m. in Sauder Concert Hall, Music Center (note special time)
Keynote address: "Glimpses of America in Change," by Anna Deavere Smith, playwright, actor and professor
Anna Deavere Smith, hailed by Newsweek as "the most exciting individual in American theatre," will use her brand of theater to explore issues of community, character and diversity in America. Known for her recurring role on "Nurse Jackie" and as Nancy McNally on NBC's "The West Wing," Smith has also appeared in films such as "Rachel Getting Married," "Philadelphia" and "The American President." She is best known as the author and performer of two one-woman plays — "Fires in the Mirror" (Obie Award-winner and runner-up for the Pulitzer) and "Twilight: Los Angeles 1992" (Obie-winner and Tony Award nominee). The evening keynote lecture will be in conjunction with the Umble Master Class and Yoder Public Affairs lectures.
Friday, Sept. 30 to Sunday, Oct. 2, 2011
Stratford Theater Trip
A three-day theater trip offers a wonderful weekend of theater, shopping and lodging at the Queens Inn in the beautiful town of Stratford, Ontario, on the Avon River. Theater choices include: "Merry Wives of Windsor," "Camelot" and "Grapes of Wrath." Commentary and background will be provided by Chair of the Goshen College Theater Department Doug Caskey. The tour is hosted by Coordinator of Adult Educational Travel Janette Yoder and Chair of Afternoon Sabbatical Mary Ann Roth. Cost: $495 for coach travel with sack lunch, double occupancy, two plays and Sunday brunch. Optional third play is additional cost. Call (574) 535-7565 for availability.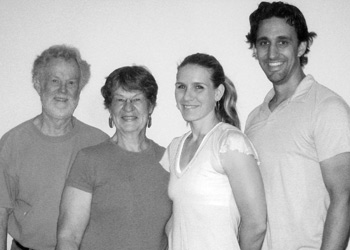 Tuesday, Oct. 18, 2011 at 1 p.m. in Sauder Concert Hall, Music Center
"The Revitalization of Goshen Downtown," by Dave Pottinger and Faye Peterson with Jeremy and Maija Stutsman
The aesthetics of downtown Goshen have been a passion of Dave Pottinger, Faye Peterson and their daughter Maija and son-in-law Jeremy Stutsman for many years as they purchased and renovated many of the buildings in the center of town, birthed businesses, encouraged artist organizations and recently led the streetscape implementation. The family will share the vision that has motivated them and the steps in their journey to make Goshen a beautiful and "go to" place.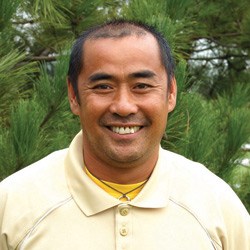 Tuesday, Nov. 8, 2011 at 1 p.m., Sauder Concert Hall, Music Center
"From Laos to Goshen," by Tavi Mounsithiraj, GC men's soccer coach
The Mounsithiraj family fled from Laos in 1978 when the Communists took over the country. After a year in a refugee camp, the family eventually settled in Goshen. Tavi will share the story of leaving one homeland as a 13-year-old boy and adjusting to life in another culture where today he is the head coach of Goshen College men's soccer, leading his team to national recognition.

Tuesday, Dec. 6, 2011, at 1 p.m. in Sauder Concert Hall, Music Center
"Celebrating Christmas in Art," by Merrill Krabill, professor of art and department chair
At Christmas, Jesus' coming to earth is celebrated. How might artists help reveal some of what it means to encounter the divine? God in the form of a human infant seems to be a very different thing than God as the ruler of all. Krabill will explore these thoughts with images from the works of a wide variety of artists.
Tuesday, Feb. 14, 2012 at 1 p.m. in Sauder Concert Hall, Music Center
"Goshen's Coffee Connection," by Rosalyn Troiano, CSA string director, and a "merry band" of performers and singers
Love coffee? Zimmermann's Coffee House, from Sauder Concert Hall, will present a delightful performance of "The Coffee Cantata" by J.S. Bach. Rosalyn Troiano and a "merry band" of instrumentalists will perform this humorous, coffee-loving cantata, featuring Danilelle Svonavec, soprano; Scott Hochstetler, baritone; and Jeff Martin, tenor.

Tuesday, March 13, 2012 at 1 p.m. in Sauder Concert Hall, Music Center
"Goshen Meets Broadway," by the Shout for Joy Children's Choir with Sandra Hill, director
Join Community School of the Arts music teacher Sandy Hill, several of her vocal students, the Shout for Joy Children's Choir, as well as other guests for an afternoon on Broadway. Sit back and relax as some of the most enchanting songs from musicals make their way to Sauder Concert Hall.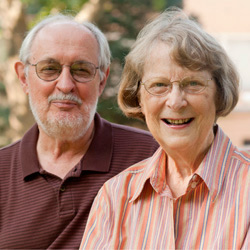 Tuesday, April 17, 2012 at noon in the College Mennonite Church Fellowship Hall
International meal and program featuring "Lithuania: Small Surprises," by Ervin Beck, professor emeritus of English, and Phyllis Beck
After a traditional Lithuanian meal, Ervin and Phyllis Beck, who taught for a year at LCC International University in Klaipeda, Lithuania, will share surprises from this interesting country. In this ancient land on the Baltic Sea, formerly a Soviet territory, they found an unspoiled seacoast, traditional villages and architecture, and people whose language most resembles the original Indo-European tongue. Cost: $20. Call (574) 535-7565 to register.
Tuesday, May 8, 2012
Spring Bus Trip – Chicago Art and Architecture
This trip to Chicago will feature art and architecture. In the morning the group will visit the Frank Lloyd Wright House and Studio in Oak Park to enjoy his amazing architectural style, then will return to Michigan Avenue to visit the Chicago Cultural Center housed in the beautiful 1897 Library, with its marbled and mosaic interiors and the world's largest art glass dome by Tiffany. In the late afternoon there will be a docent-led tour of the highlights of the Chicago Art Institute, including a visit to the recent addition of the Modern Art Wing. Cost: TBA. Call (574) 535-7565 to register.
Goshen College's Afternoon Sabbatical program is in its 34th year of offering rich diversity in programs for the community. A committee of area representatives and college personnel consider the knowledge and talent at Goshen College and among Elkhart County citizens and aim to select programs that will appeal to a wide variety of interests. The program encourages the idea that people need a sabbatical from their daily lives to rejuvenate their minds and spirits.
Afternoon Sabbatical programs are usually on the second Tuesday of the month at 1 p.m. in Sauder Concert Hall or the College Church Fellowship Hall and are free and open to the public. For more information on the Afternoon Sabbatical series call the Goshen College Welcome Center at (574) 535-7566.
– By Alysha Landis
Editors: For more information about this release, to arrange an interview or request a photo, contact Goshen College News Bureau Director Jodi H. Beyeler at (574) 535-7572 or jodihb@goshen.edu.
###
Goshen College, established in 1894, is a residential Christian liberal arts college rooted in the Anabaptist-Mennonite tradition. The college's Christ-centered core values – passionate learning, global citizenship, compassionate peacemaking and servant-leadership – prepare students as leaders for the church and world. Recognized for its unique Study-Service Term program, Goshen has earned citations of excellence in Barron's Best Buys in Education, "Colleges of Distinction," "Making a Difference College Guide" and U.S. News & World Report's "America's Best Colleges" edition, which named Goshen a "least debt college." Visit www.goshen.edu.