Award-winning poet Julia Spicher Kasdorf to present "Poetry in America" for S.A. Yoder lecture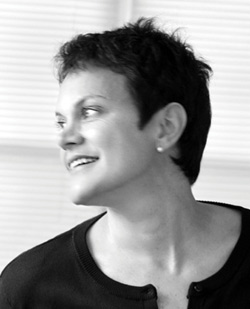 GOSHEN, Ind. – Award-winning poet Julia Spicher Kasdorf, who often writes about Mennonite subjects, will present this year's S.A. Yoder lecture on Friday, Sept. 16 at 7:30 p.m. in Goshen College Music Center's Rieth Recital Hall. Kasdorf, associate professor of English and women's studies at Pennsylvania State University, will share some poetry from her recently published book "Poetry in America." The reading will be followed by a reception, an opportunity to meet the author and an opportunity to buy books and have them signed. The event is free and open to the public.Kasdorf was born to Mennonite parents in 1962 in central Pennsylvania, where she lived until her family left their farm and moved to a suburb of Pittsburgh, Pa. She began as a young writer, documenting her life in her personal journal. In 1982, she attended Goshen College for two years and studied English before going to New York University to complete her schooling and eventually receive a doctorate in English Education. All the while she continued to grow as a writer and poet, gaining distinction with poems published in "The New Yorker" and the "Paris Review."
The recipient of a National Endowment for the Arts fellowship, Kasdorf's poems feature images that she remembers from summers on her grandparents' farm and she often approaches subject matter that many Mennonites might consider taboo. Her most recent book of poetry, "Poetry in America" (University of Pittsburgh Press, Aug. 2011), includes several poems inspired by her life growing up in Pennsylvania and her experiences as a writer, mother and traveler.
Amazon.com describes "Poetry in America" as, "extravagantly formed lyric and narrative poems that function like the works of social realism for our times: hard times, wartime, divorce, times of downturn and dissipated resources. Largely set in rural places and small towns, these poems are politically committed but deeply sensuous, emotionally complex and compassionate."
Kasdorf is the author of two previous poetry collections, "Eve's Striptease" and "Sleeping Preacher," which won the 1991 Agnes Lynch Starrett Poetry Prize and the Great Lakes Colleges Award for New Writing in 1993. She received a Book of the Year Award from the Modern Language Association's Conference on Christianity and Literature for her 2001 "The Body and The Book: Writing From a Mennonite Life, 1991-1999." In addition to her poetry collections, she wrote the 2002 biography "Fixing Tradition: Joseph W. Yoder, Amish American." She is the editor of "Rosanna of the Amish: The Fully Restored Text " (Herald Press, 2008) for which she wrote the introduction, and co-editor of the 2007 anthology "Broken Land: Poems of Brooklyn."
The S.A. Yoder Lecture Series, begun in 1972, honors Dr. Samuel A. Yoder, a professor at Goshen College from 1930 to 1935 and again from 1946 until his death in 1970. During his career, he was a Fulbright lecturer at Anatolia College in Greece, Smith-Mundt lecturer at the University of Hue in Vietnam, visiting professor at Taiwan University in Formosa, welfare officer under the United Nations in Egypt and GC Study-Service Term leader in Jamaica. Gifts to the series by his students and friends have made the endowed lecture possible.
– By Alysha Landis
Editors: For more information about this release, to arrange an interview or request a photo, contact Goshen College News Bureau Director Jodi H. Beyeler at (574) 535-7572 or jodihb@goshen.edu.
### 
Goshen College, established in 1894, is a residential Christian liberal arts college rooted in the Anabaptist-Mennonite tradition. The college's Christ-centered core values – passionate learning, global citizenship, compassionate peacemaking and servant-leadership – prepare students as leaders for the church and world. Recognized for its unique Study-Service Term program, Goshen has earned citations of excellence in Barron's Best Buys in Education, "Colleges of Distinction," "Making a Difference College Guide" and U.S. News & World Report's "America's Best Colleges" edition, which named Goshen a "least debt college." Visit www.goshen.edu.