Business Department awards grants to seven student-run businesses
GOSHEN, Ind. – From a colorfully painted vintage van frequently seen around campus to black and white photos from Africa, Goshen College students are bringing their entrepreneurial ideas to life with assistance from the Business Department. To encourage students to develop their skills further, the Business Department has awarded entrepreneurship grants to seven student-owned businesses, for a total of $27,500 during this academic year.
Each of the seven businesses that received funding presented the Business Department with a business plan and demonstrated a passion for their business, knowledge and skill in their fields, an understanding of their market, and a likelihood of long-term success.
The funds dispersed among the student businesses were part of a larger external grant that the Business Department received a few years ago and which has now ended. According to Michelle Horning, professor of accounting and chair of the Business Department, the department intends to continue to award entrepreneurship grants annually, though most likely on a smaller scale.
"We wanted to provide access to the expertise of the business faculty for those that received grants," said Horning. "The students will continue to receive help from business faculty on various aspects of their business. This interaction between faculty and students in a real business setting is a wonderful learning experience for the student."
The seven student-owned businesses include: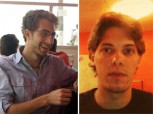 Studio Ace of Spade is a print and Web design firm owned by Jon Savage, a senior business and information systems major from Chagrin Falls, Ohio, and Simon Birky-Hartmann, a 2009 Goshen alumnus. Savage and Birky-Hartmann established their studio in October 2010, combining their talents in art, graphic design, management and technology. Studio Ace of Spade offers services from bottom-up branding to Web development and design.
Past projects for Studio Ace of Spade have included designing the cover for a novella written by a Goshen student; working with a local candidate on his campaign; and creating album and tour posters for Wilson's Reservoir, a local band.
Learn more about the company at www.studioaceofspade.com.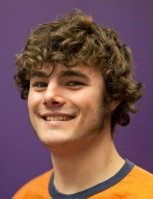 Reimagine Cinema is a video production company owned by Jacob Landis-Eigsti, a senior communication and theater major from Lakewood, Colo. Reimagine Cinema is dedicated to creating unique, exciting, professional and powerful music videos and short films. The Indiana Association of School Broadcasters named Landis-Eigsti's videos as the best in the state, and the Broadcast Education Association recently awarded his music video, "Beautiful," the second best college music video in the nation for 2011. Reimagine Cinema is being recognized for its work by several nationally-known bands and musicians. Find Reimagine Cinema and its videos on Facebook, YouTube and Vimeo.
"The grant has really been an enormous help in the process of forming a company," said Landis-Eigsti. "While challenging at times, it's lots of fun and it's what I truly enjoy doing – I'm having a blast creating films and sharing them with others."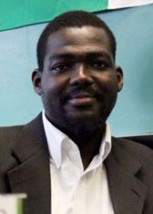 ResQ Records is a music production and publishing company specializing in Afrofusion music, owned by Idris Busari, a junior broadcasting and public relations major from Nigeria. The company has recently produced and released Afrofusion, Volume 2. Busari explained Afrofusion to be the expression of the African spiritual substance fused with hip-hop, soul and R&B influences.
Busari's interest in music making began long before he came to United States, soon after he graduated high school in Nigeria when he started a singing group with his friends. Though the group didn't stay together for long, Busari's love for music stayed with him through the years until he came to the United States.
"I realized that I couldn't get away from the music in me, fighting to break free as I worked the day shift on the factory floor," he said. After recording his first album from his bedroom in 2008, he registered his record label in the United States. Now, he is searching for a manager and is promoting his music by establishing an online presence. The company and its studio are based in Goshen.
More information about ResQ Records and its music can be found on its Facebook page, "Omogo & the ResQ Ranjazz Family."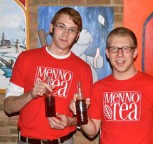 Cultural Ventures LCC is owned by Niles Graber Miller, a first-year business major from Goshen, and Hans Weaver, a sophomore business major from New Holland, Pa. The business' latest venture is brewing and bottling Menno Tea, an iced tea recipe that is modeled after a favorite family recipe. The tea is made from all locally grown, organic and fair trade ingredients.
"Menno Tea has a taste that many people associate with home," said Weaver. "So we say that we're not just brewing a tea, we're brewing a culture. This means that we're trying to include a community in this taste, creating memories and representing a culture, which can be Goshen, your home or any community you associate the tea with."
Menno Tea has been sold at Java Junction, Goshen College's student-run coffee shop, but is looking to expand. Follow the company's progress at their website, www.mennotea.com.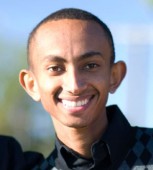 Ras Photo Studio is owned by Abi Tsigie, a junior art major from Ethiopia. In addition to digital color photography, the studio specializes in black and white photography and also has an experimental laboratory, collecting and experimenting with old, film-based cameras. Ras Photo Studio is available for weddings, portraits, graduations, fashion photography and a variety of other celebrations.
"I didn't know it then, but Ras Studio started when I was about 13 years old when I discovered my fathers" old Zenith (a 35mm film camera he bought during the '70s) stashed in storage," said Tsigie. "Shortly after the discovery, I was given the chance to play with the camera, and since then, my passion for images grew continuously!"
Although Tsigie has moved on to using up-to-date digital cameras, his experience with his father's Zenith sparked an interest in experimenting with vintage cameras. Using out-dated technology isn't very popular in a world where new versions of digital cameras are coming out every month, but Tsigie has found that experimenting with older film cameras can add distinct lighting and textural effects that no digital camera can give.
Although Ras Photo Studio is located in Goshen, the studio's customer database is not limited to the Michiana region. It also has customers in Indianapolis, Chicago, and internationally in Ethiopia (to which the studio made two recent trips for a freelancing project). Internationally, Ras Studio is working on opening a branch in Addis Ababa, Ethiopia, in April 2012. There, the studio will include a database for research in photography, a museum for their growing vintage camera collection and gallery space to display local art and introduce local artists to the community.
To view Tsigie's photography, go to www.behance.net/AbiTsigie, or visit Ras Studio's Facebook page.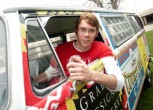 NGM Designs, owned by Niles Graber Miller, a first-year business major from Goshen, creates advertising space for local businesses on vintage vehicles. Businesses are promised a certain amount of exposure as the van is driven around town and parked in visible locations. Graber Miller began his business a year ago with hand-painted advertisements for 14 local businesses on a 1970 Volkswagen van.
"It's been generating a lot of excitement when people see it," said Graber Miller. 'It definitely draws looks — people turn their heads while they're driving or walking down the sidewalk. That's fun to see, because that's the purpose, getting people to look and check out these businesses."
The business recently purchased a 1970 Volkswagen Beetle, has converted it to run exclusively on electricity and is now selling advertising space on it as well. For more information, visit NGM Designs' website at sites.google.com/site/ngmdesigns/
Entertaining Angels is a music business started by William Frisbie, a sophomore accounting major and business minor from Goshen. Entertaining Angels focuses on assisting positive artists with their recording needs, and provides lighting and sound for a range of events, such as concerts and weddings. The company's studio is located in Goshen. For more information, visit the business's website at www.3ckonline.com. 
– By Alysha Landis
Editors: For more information about this release, to arrange an interview or request a photo, contact Goshen College News Bureau Director Jodi H. Beyeler at (574) 535-7572 or jodihb@goshen.edu.
### 
Goshen College, established in 1894, is a residential Christian liberal arts college rooted in the Anabaptist-Mennonite tradition. The college's Christ-centered core values – passionate learning, global citizenship, compassionate peacemaking and servant-leadership – prepare students as leaders for the church and world. Recognized for its unique Study-Service Term program, Goshen has earned citations of excellence in Barron's Best Buys in Education, "Colleges of Distinction," "Making a Difference College Guide" and U.S. News & World Report's "America's Best Colleges" edition, which named Goshen a "least debt college." Visit www.goshen.edu.