Quilts featuring fabrics from Senegal on display in new exhibit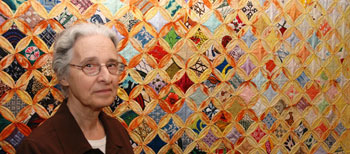 >>Read more about Irene Bornman and her quilts.
>>View a slideshow of photos from the exhibit.
>>Watch a video about Bornman's quilt evangelism.
Photo, video and story provided by Mennonite Mission Network.
GOSHEN, Ind. – Irene Bornman, of Goshen, brought pieces of Senegal back to Indiana with her when she returned from her nine-year stay in Senegal. Using locally acquired fabrics from markets in Senegal and Mali, Bornman made a variety of comforters and quilts, which will be on display in Goshen College's Good Library Gallery starting May 8 in the exhibit, "Senegal Fabric in Indiana Patchwork: The Quilts of Irene Bornman."
The opening reception for the exhibit will be on Sunday, May 8 from 6 to 8 p.m. in the Good Library Gallery. At 7 p.m., Bornman will comment on her quilts. The quilts will remain on display until July 15, and will be displayed for a second time from Aug. 15 to Sept. 5.
The first of the comforters and quilts that Bornman, a member of Life Spring Community Church, made were sold in the United States to raise money for missions. Bornman had lived and served in Senegal with a church planting team under Mennonite Mission Network and Friends of the Wolof. As she continued quilting, Bornman shared her skills with Senegalese women and began making quilts for her (then) 12 grandchildren back in the United States. Eight of her grandchildren were born while she was in Senegal, so she decided to make quilts for them as a way for them to get to know her and her passion for sharing her faith by serving others.
Bornman said, "I began to make quilts, and while I sewed and quilted I'd pray for their salvation and future spouse and family. I also decided that at age 12, they could choose one [quilt] for themselves."
Most of the quilts in this exhibit were made for her grandchildren. Currently, Bornman has 14 grandchildren, and by May 2011 she will have 15. By the time the exhibit opens in May, five grandchildren will have selected their quilts.
Bornman said the quilts in this exhibit exemplify one of her guiding mottos for life: "Work with what you have." In Senegal, this meant that she could design and make quilts even if they didn't fit the norm for quilt making in Indiana. Bornman made all of the quilt tops in Senegal and quilted three of them there. The outline of the country of Senegal is quilted into the corner of each quilt.
Rebecca Haarer is the curator for the exhibit, which is sponsored by the Mennonite-Amish Museum Committee of Goshen College, supporting the Quilt Gardens program of the Elkhart County Visitors and Convention Bureau.
The Good Library Gallery is located in the north end of the basement of the Good Library. When classes are in session, the gallery hours are: 7:30 a.m. to 11 p.m. on Monday through Thursday; 7:30 a.m. to 5 p.m. on Fridays; 1 p.m. to 4 p.m. on Saturdays; and 6 p.m. to 11 p.m. on Sundays. Hours vary during academic breaks, summer and holidays. For gallery hours, call (574) 535-7418.

– By Alysha Landis
Editors: For more information about this release, to arrange an interview or request a photo, contact Goshen College News Bureau Director Jodi H. Beyeler at (574) 535-7572 or jodihb@goshen.edu.
###
Goshen College, established in 1894, is a residential Christian liberal arts college rooted in the Anabaptist-Mennonite tradition. The college's Christ-centered core values – passionate learning, global citizenship, compassionate peacemaking and servant-leadership – prepare students as leaders for the church and world. Recognized for its unique Study-Service Term program, Goshen has earned citations of excellence in Barron's Best Buys in Education, "Colleges of Distinction," "Making a Difference College Guide" and U.S.News & World Report's "America's Best Colleges" edition, which named Goshen a "least debt college." Visit www.goshen.edu.