Muslim on a Mennonite campus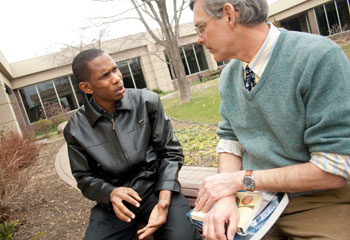 GOSHEN, Ind. – While differences between Christians and Muslims have caused significant global conflict, two Muslim international students – Mohammad Rasoulipour and Mohamed Meissara – are finding the Christian campus at Goshen College to be a place of peace, understanding and acceptance as they focus on commonalities.
Meissara, a sophomore from the northwestern African country of Mauritania, came to Goshen through the Fulbright Scholar program (a U.S. government international educational exchange program) and is majoring in TESOL (Teaching English to Speakers of Other Languages). Islam plays a major role in Mauritanian culture since the majority of people are Muslim. So encountering people in the United States who don't know a lot about the religion has been different for Meissara. "People who talk about differences between Christianity and Islam usually don't know very much about one religion or the other," said Meissara. "You have to make distinctions between Islam and Muslims, and Christianity and Christians. We have more similarities than we think."
In his Bible class at Goshen, Meissara said he would write down the similarities between the Bible and the Koran, sometimes finding verses in both Scriptures that were exactly the same.
Rasoulipour, a sophomore art and Bible and religion double major from Tehran, Iran, agreed. The more he studied, the more he saw that Muslims, Christians and Jews all have similar core beliefs.
"Throughout the Bible class I took last semester, I was looking for things that were new and different to me about Christianity. I was expecting differences, and surprisingly enough, didn't find much," he said. "Even if I did find differences, it was something interesting for me – that was the un-boring part."
Before coming to Goshen, neither Meissara nor Rasoulipour had heard of Mennonites before, but the college's emphasis on peace is something that resonates with them.
Rasoulipour chose to add the Bible and religion major to his art focus because "I want to take back with me something that is original to the place I have stayed in – especially Mennonite beliefs," he said.
Meissara said, "If I happen to be university president one day, I will try to practice the simplicity and humbleness of our president of Goshen College."
For both Rasoulipour and Meissara, being on a college campus where students' personal beliefs cover a wide spectrum has encouraged them to engage in many conversations about reasons behind faith.
"This has been my practice, strengthening my faith with reasoning and getting rid of dogmas," said Rasoulipour. "If I was in Iran, it was less likely for me to evaluate my beliefs and practice in making them in depth."
These conversations have allowed him to learn a lot about Mennonite beliefs, something he wants to share when he returns home. "[Back home], I would have to introduce the Mennonite college community as peace loving, nature loving and religious people," said Rasoulipour. "Especially the efforts they make to change the world and the morality of service."
More so than religious differences, Meissara has found some cultural differences to be difficult. In Mauritania, all members of the family gather together at breakfast and after lunch to drink tea and talk. Meissara tries to share this cultural practice through intentional fellowship with friends. He also brought a piece of his culture with him – the national dress, the Dara'a – which men daily wear. Both of the Muslim students said they always avoid pork when it's served in the school dining hall, as it is restricted in Jewish and Muslim dietary laws. Rasoulipour has also found ways to keep some Iranian culture with him – especially food and music. He enjoys listening to Mohammad-Reza Shajarian, a classic Iranian musician, and has cooked Gheimeh-Bademjan and Fesenjan, two traditional Persian dishes, with friends.
And not having a mosque near is strange for the young men, who are two of four Muslims on campus. "It is kind of challenging to maintain practicing my faith the same way I used to do in my country," said Meissara. "It is very unfamiliar for me to live in a place where there is no mosque, and it does make a big difference." Despite not having a mosque, Meissarasaid he is still able to pray five times a day, as he did at home in Mauritania.
"Often when it comes to things we don't know about, we think badly of them. We rely on others to teach us (sometimes inaccurately), rather than opening our eyes and seeing for ourselves," said Rasoulipour.
As Rasoulipour and Meissara have come to Goshen College and are learning more about Christians and Mennonites, one way that Goshen College has worked at this from the other direction is by sending students to places like Senegal and Egypt through the Study-Service Term program, where they have the opportunity to experience Muslim religion and culture first hand, sometimes even living with Muslim families.
Goshen College Professor of Bible and Religion Paul Keim, who has also taught Arabic and Islamic courses, said having Muslim students on campus provides insight into the personal dimensions of Muslim faith that are difficult to present adequately in a classroom setting. This personal contact, he said, gives us a fuller picture of Islam, the diversity and integrity of the religion, as well as the respective cultures they represent.
"Personal reflections from Muslims themselves can help to correct various misconceptions we may pick up from the news.
– By Alysha Landis
Editors: For more information about this release, to arrange an interview or request a photo, contact Goshen College News Bureau Director Jodi H. Beyeler at (574) 535-7572 or jodihb@goshen.edu.
### 
Goshen College, established in 1894, is a residential Christian liberal arts college rooted in the Anabaptist-Mennonite tradition. The college's Christ-centered core values – passionate learning, global citizenship, compassionate peacemaking and servant-leadership – prepare students as leaders for the church and world. Recognized for its unique Study-Service Term program, Goshen has earned citations of excellence in Barron's Best Buys in Education, "Colleges of Distinction," "Making a Difference College Guide" and U.S. News & World Report's "America's Best Colleges" edition, which named Goshen a "least debt college." Visit www.goshen.edu.