Lasting Ties: Leaving Goshen's mark in Egypt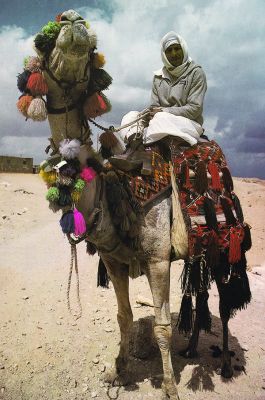 Longtime Bulletin readers may recall the mystery of an Egyptian seated on a camel near Cairo and wearing a Goshen College sweatshirt. The July-August 1983 issue of Natural History magazine published the image, and that September, the Bulletin asked its readership to help determine the sweatshirt's origin.
The answer came in the next Bulletin. It turned out that the garment had belonged to Jon Stark, '81, who together with at least six other GC alumni worked with Mennonite Central Committee in Egypt in the early 1980s. A GC/MCC contingent had joined Presbyterian co-workers on a six-hour ride from the Pyramids to Saqqara and back. He became more uncomfortable as the journey progressed, writing that, "As time goes on, your points of contact wear thinner and thinner." So at some point during the ride, Stark took off his "precious GC sweatshirt" and converted it into a seat cushion. Relieved at journey's end to switch to a different mode of transport, Stark left without his sweatshirt.
The unusual image later found its way onto a GC publicity poster ("You never know where our name will turn up… We're making an imprint on the world.").
SSTers, even those in brand-new locations, are seldom the first or only Goshen College connection to a particular region. GC Record readers received a first-hand report of Cairo a century ago, submitted by Business Manager J.S. Hartzler during the course of a world tour. Connections to the Middle East became more direct in 1919 when Goshen alumni headed to the Near East for relief work. Through the next several decades, Beirut served as an ex-patriate home for several who had studied here. The fall of 1944 found several GC alums, including long-time GC professor of English S. A. Yoder '21 sojourning outside of Cairo, working for MCC with Yugoslavian refugees housed there. Many —though not all — GC connections have been made through MCC. At least one GC alumnus, Rafik Wahba '92, is a native of Egypt.
– Joe Springer
Curator, Mennonite Historical Library