A royal honor for Ellah Wakatama Allfrey '88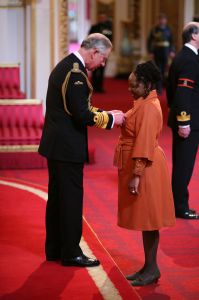 Ellah Wakatama Allfrey '88 says she arrived at Goshen College as "a 19-year-old girl, just a few weeks out of a rather strict boarding school in Harare (Zimbabwe) and on my own and found such support, friendship and fabulous teachers there that I am pretty sure my identity remains defined by it." At Goshen, she edited The Record and earned a bachelor's degree in communication.
She began her career in England as editorial assistant at Penguin Press, working on history and modern classics titles. Next, she was senior editor at Jonathan Cape, an imprint of Random House, where she introduced many young African writers to the wider world. She's now the Deputy Editor of Granta, an international literary journal, organizes literary festivals in Africa and is on the judging panel of both the David Cohen Prize for Literature and the Caine Prize for African Writing. She's also a Fellow of the Royal Society of the Arts.
In late March, she was awarded an Officer of the Order of the British Empire (OBE), for services to the publishing industry, at Buckingham Palace. "I went with my husband, Richard Allfrey '87, our daughter, Gabrielle, and my sister, Mavhu Wakatama Hargrove. The ceremony itself was in a very impressive ballroom and I have to admit being rather overwhelmed by the history, the mirrors, long hallways, ceremony and massive artwork everywhere. Prince Charles officiated and spent 40 seconds or so (although of course it seems longer) in conversation with each recipient. Richard now jokes that I've become an ardent monarchist. No chance of that, but the prince really was incredibly charming and a lot of effort was put into making each recipient feel very special indeed. I respond very well to princess treatment."
Allfrey is grateful to the peers who nominated her for the honor and said she remains committed to her work. "My driving passion is the fact that I love books, I love writers and more than anything, I love reading and want to bring writers and their work to as many people as possible. It really is as simple as that. I don't think one could survive long in what is quite a tough industry without that as the base point. I think the kinds of writers and books I have been interest in (African writers in particular), means that I was not always working along with the mainstream. At times that was a battle, but in the end I am pretty sure it was that interest, and the work I did (with help from a lot of incredibly supportive colleagues) that led to this award."
– By Richard R. Aguirre