Terry Evans
Chicago artist photographer Terry Evans is the Goshen College Art Department's 2010 Eric Yake Kenagy Visiting Artist, and will offer a public lecture, "Now and Then," in the Music Center's Rieth Recital Hall on Sunday, Feb. 7 at 2:30 p.m., with a reception following. The presentation is free and open to the public.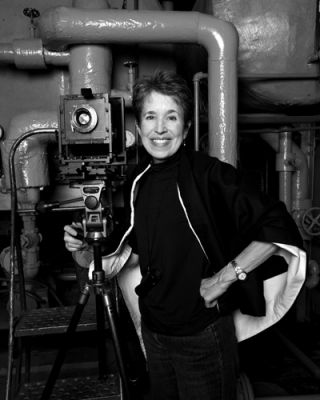 Evans has worked with aerial and ground photography to capture the prairies and plains of North America. More recently, she has explored the steel industry and working steel mills, as well as using photographs of the Greenland ice sheet to examine the scale of climate change.

"My own frustration in trying to understand the scale of the glacier pointed out to me that understanding the scale of climate change is equally difficult," Evans wrote in her project statement about her experience photographing Greenland's Jakobshavn Glacier.
"The landscape in Greenland on Pre-Cambrian rock," she wrote, "where there are no trees, was splendid to my eye. I explored the fen that has a rocky path leading to the ice fjord that leads to the mouth of the glacier. I kept remembering the prairies of Kansas."
Evans' photographs explore both the beauty of nature and the changes that are being wrought on it. After exploring the inner workings of steel mills, she began photographing the sources of raw materials that steel is made from.
"I've done both ground and aerial photography near Virginia, Minnesota where iron ore is mined," she wrote. "These pictures raise questions about the destruction of land necessary to produce steel which feeds many of our desires."
Evans has had solo exhibits at the Chicago Art Institute, the Smithsonian National Museum of Natural History and the Field Museum of Natural History. She is a Guggenheim Fellow and recipient of an Anonymous Was a Woman award. Her work is featured in the collections of the Museum of Modern Art, New York, the San Francisco Museum of Modern Art, the Whitney Museum of American Art, Museum of Contemporary Photography, Houston Museum of Fine Arts and others.