The First Masters Have A World For A Classroom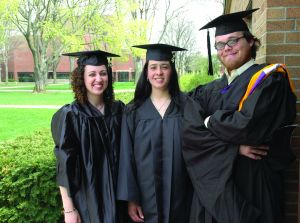 Editor's note: Goshen College's first three graduate students walked across the commencement stage in caps and gowns on April 26, and will complete master's degrees in environmental education at Merry Lea Environmental Learning Center of Goshen College in early June. Next year, the program will triple, with a cohort of 10 beginning studies in July.
Here's what the incoming students can expect and what those who are leaving will take with them:
LANDSCAPES
Environmental education is place-based learning. It teaches people to be aware of their setting: how ecosystems function biologically, how they fit within the larger landscape and how they are shaped – or misshapen – by human values.
By mid-April, three-quarters of the way through their program, Merry Lea's three current graduate students have worked with prairies, farmland, upland and lowland forests, fens, bogs and a variety of other types of wetlands. On this day, they are back on the west side of Merry Lea on the sand dunes that glaciers deposited just north of High Lake. They've come with Bill Minter, a certified forester who serves as Merry Lea's land manager, who is restoring this area to the oak savanna it once was.
The three have been to these dunes before: in August for a natural history course with an entomologist, in October during a seminar on nature photography, and in March, when they helped with a prescribed burn on this site. Now they are back to watch the charred landscape begin to sprout and to learn more about how fire-dependent landscapes function.
None of the three students has previous experience with oak savannas. That is not surprising, since this ecosystem is listed as "globally imperiled." Although patches of oak savanna were once abundant along the prairie/forest border throughout the Midwest, grazing, farming and fire suppression have since eradicated or degraded much of this ecosystem. Merry Lea contains the only oak savanna in Noble or Elkhart counties.
For Nayla Jiménez – who grew up in the cool, humid cloud forests that blanket the mountains of Costa Rica – any dry, open landscape is new. A savanna is also an unfamiliar setting for Mallory Kuhn from Spencerville, Ohio. Todd Weston, whose hometown in Missouri hugs the Kansas border, is at home with prairies, but unfamiliar with the glacial activity that created Merry Lea's dunes.
On their educational trek, Jiménez, Kuhn and Weston follow Minter across the north and south sand dunes. The north dune, which was burned this spring, is still black and bare. Kneeling down, they can begin to see green emerging from the scorched clumps. The south dune was not burned, and it takes a serious climb through little bluestem to get to the top.
In the classroom, they've already learned how to recognize a savanna by observing the percentage of ground shaded by the tree canopy and whether the soils are wet or dry. They know that shrubs such as gray dogwood and smooth sumac are indicators of a dry soil, and that the scattered oaks they are looking at are black oaks. Black oaks prefer dry soil and are able to survive a fire thanks to their thick, corky bark and the ability of seedlings to re-sprout after being burned.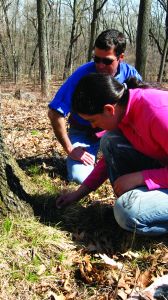 The group heads south toward a point where Native Americans once camped, stopping to admire a patch of Pennsylvania sedge at the base of an oak. Below them, High Lake sparkles through the trees. Another short walk will take them to an entirely different ecosystem where discussions might revolve around drainage tile, and sycamores and swamp rose mallow are the species to watch for. That will wait for another day.
HANDS-ON EXPERIENCE
Todd Weston, who studied wildlife and fisheries at the University of Missouri for his bachelor's degree, chose Merry Lea's graduate program over seven others partly because of the amount of K-12 interaction built into the program. "I really wanted to be teaching people," he says.
Merry Lea's master's in environmental education requires about 300 hours of practicum experience. Since Merry Lea already has a 30-year track record with environmental education and a K-12 program that serves over 7,000 school students each year, there is ample opportunity to learn from experienced educators and a proven curriculum.
The one-year, year-round program enables students to experience environmental education in all seasons. In the fall, a graduate student might find herself showing first-graders how corn was processed on a turn-of-the-century farm in one of Merry Lea's farm craft programs. In the winter, the group treks to the Yoder Sugar Bush in Huntertown, Ind., to tap maple trees, boil sap and teach maple sugaring. In the spring, they are hip-deep in wetlands dipping for macroinvertebrates and teaching about water quality.
Preparing a public program for all ages at Merry Lea's annual NatureFest will round out their experiences. Weston will lead a herpetology hike; Kuhn is guiding families who go geocaching and Jiménez is preparing a workshop on how to make a home more eco-friendly.
SPACE FOR FAITH
"One unique aspect of our program is that we talk a lot about spirituality and the relationship between care of creation and faith," says Paul Steury, who teaches two environmental education courses in the master's program.
Readings and lectures put students in contact with environmental leaders such as author Bill McKibben and former vice president of the National Association of Evangelicals Richard Cizik, whose passion for the planet is informed by a Christian framework.
Merry Lea's annual Autumn Hope Conference – which integrates Christian theology and worship with time outdoors led by trained naturalists – is also a part of the graduate curriculum.
"The faculty wasn't pushing a set of ideas so much as making a space for conversation about how spirituality, beliefs and value systems tied into the subjects we talked about," says Jiménez.
"It was a change, coming from a state school where you never talked about religion unless you were in a religion class," says Weston.
Kuhn recalls being inspired by the group's visit to Faith in Place, a Chicago non-profit that helps people of all faiths find the tools they need to become good stewards of the earth. "I really wasn't exposed to the idea of creation care before," she says.
A WIDE-OPEN FUTURE FOR GRADUATES
"We define environmental education very broadly," says David Ostergren, director of the graduate program. "We at Merry Lea are excited about reaching out to a broad audience. We want to train leaders that can bring environmental awareness to a variety of fields. Our students' future jobs and goals are only limited by their imaginations."
This breadth is evident in the interests of current students and the backgrounds of next year's entering class. Weston plans to teach in a school classroom that will no doubt contain aquariums of live amphibians and reptiles. Kuhn is a fan of small mammals and hopes to teach others about them in a zoo setting. Jiménez would love to work as a consultant, helping businesses or homeowners improve their energy-efficiency and ecological footprints.
Among next year's entering class are a chef interested in sustainably grown food as a starting point for environmental education; a woman with a vision for combining environmental education with her inner-city ministry and a student with a degree in ecological economics.
A WIDE OPEN FUTURE FOR MERRY LEA
The master's program is reshaping Merry Lea's focus and energies as well. Luke Gascho, executive director at Merry Lea, is surprised and pleased by the number of students entering the program this summer.
"People are attracted to our clearly defined curriculum," Gascho notes. "They can see what they will get when they look at our web site, but there is also flexibility, based on which major project they choose."
This year's students report that the opportunity to complete a master's degree in one year was a factor in their decision. Granted, the schedule is brutal, with few breaks, but for those able to devote themselves to full-time study, it is an opportunity to save money and hit the job market sooner.
Perhaps the most important factor filling the chairs in Merry Lea's classroom is the critical, 21st century need for ecological understanding. "The environment is in the news a great deal," observes Gascho. "This encourages people to think, 'I need to do something about that!'"
By: Jennifer Shrock