Planting 'Seeds Of The Kingdom'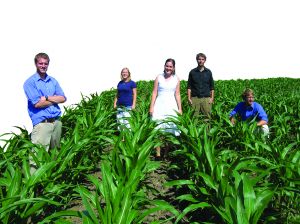 What could be more fun for a group of young adults than a road trip together? For Matt Troyer-Miller '05, Elizabeth Troyer-Miller '06, Mark Gingerich '05, Randy Keener '08 and Jessica Roth '06, such a road trip took them this summer to Mennonite congregations in the Central Plains Mennonite Conference to explore "what it means to talk about peace and live into God's vision for Shalom while being rooted in Jesus Christ.
The group, calling themselves Seeds of the Kingdom, started in Kalona, Iowa on June 28 and ended over 4,300 miles later on Oct. 5 in Lebanon, Pa. after trekking through South Dakota, Montana, Nebraska, Minnesota. At each stop, the group shared from personal journeys and desired to also learn from those they met. Their workshops included remembering the radical commitments of early Christians and an intergenerational session focusing on stories of alternative service during times of war.
"This summer has challenged me to put my faith to words in ways I haven't done before," wrote Elizabeth Troyer-Miller on the group blog (seedsofthekingdom.blogspot.com). "I don't think that our faith should all be about words, but for me, as I have had to speak what I believe and why I choose to live the way I do, it becomes more real."
–Jodi H. Beyeler