Alumnus Gets Youth Excited About Writing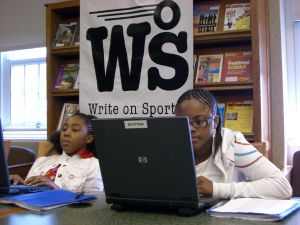 After spending his career around professional athletes and sportswriters, it was only natural for Byron Yake '61 to tap his full Rolodex for a cause greater than himself.
The former Associated Press sports editor – who was at the wire service for 35 years – founded "Write on Sports" in 2006, a two-week summer or 10-week after-school program in several New Jersey cities that encourages middle schoolers to learn how to write by tapping into their love of sports. The program focuses on serving youth with promise who need scholarships and offers opportunities to interview celebrity athletes, hold mock press conferences, create videos, learn how to form compelling and grammatically correct sentences, and learn more about sports.
More than 100 students have participated in the program and have gained a sense of what a career in sports journalism would mean, but "it's the writing that matters to me. I don't care if any of these kids become sportswriters," said Yake, who hopes to expand the program to more cities. "The issue is if a kid can get inspired through sports to learn and enjoy the process of writing. That's what really matters."
–Jodi H. Beyeler