Less Than A Month For Singing, Dancing, Acting… And Quilting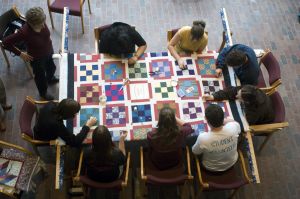 For most Goshen College students, classes during May term are intense, but peppered with afternoons of studying on the lawn or playing Ultimate Frisbee as they relish final days before heading home for summer.
But this past May didn't offer such leisurely opportunities to senior Adrienne Nesbitt and other students and faculty who turned a class into the full musical drama "Quilters" performed on the Umble Center stage to large audiences May 18-20.
Under the direction of Professor of Music Debra Brubaker and Professor of Theater Doug Liechty Caskey, a cast of seven female students – including Nesbitt – brought to life the stories of struggles and joys of frontier life for women and their quilts.
Since she graduated, theater and music double major Nesbitt saw that an intense month of preparing such a production would offer her helpful real world experience. "That is the more realistic way productions are done in that kind of time frame…to have just a few weeks to put a show together," she said. She had previously played roles in four college mainstage plays and musicals, which were produced over a full semester.
For "Quilters," the cast and crew began on a Wednesday and had to have the words, music, choreography and blocking memorized in the first week and half. Then, just 18 nights after they began, the rehearsals were over and the show began.
Though it was a fast and furious process, the month of preparing and performing was also full of new experiences. "I introduced the making of quilt patches so that the cast and crew could get their hands and fingers around what it feels like to put together fabric and make a quilt," said Brubaker, a quilter herself. "There are many references to needles, stitches, fabric, etc., in the musical and I wanted the women to 'own' these ideas and concepts."
Nesbitt, who hadn't quilted prior to this but made two nine-patches in the end, said, "Quilting is something you think of for older woman and not something you do in college, but we would go out and work on the quilt when we had a short break. Instead of being an extra task it ended up being more of a stress reliever."
When the cast and crew would sit around quilting together, it would lead to "storytelling and a spirit of strength," Nesbitt said. "I worked with a group of women on Study-Service Term. It was one of the first times I was so proud to be a woman, because they were so strong and had come through so much. It made me feel like I was back with these women when we were working on 'Quilters.'"
The others in the cast were sophomore Angie Noah (Bay City, Mich.), senior Fjaere Harder (Mountain Lake, Minn.), sophomore Jenni Miller (Goshen), first-year Kate Friesen (Freeman, S.D.), sophomore Kristina Mast (Corvallis, Ore.) and senior Sara Thögersen (Goshen).
The end result was a quilt that 15 different people put squares into – including the directors, choreographer, accompanist and technical director – 25 people helped quilt and it measured 70 by 80 inches. It was then raffled off at the final show to raise money for quilters in Mongolia.
"The thing I fell in love with about quilts is that there is always a story," said Nesbitt. "You become a detective and try to figure out what the story is behind it. They are sort of little time capsules that are used."
– By Jodi H. Beyeler