Mennonite first-time voters share views on faith and politics with CNN and Chicago Tribune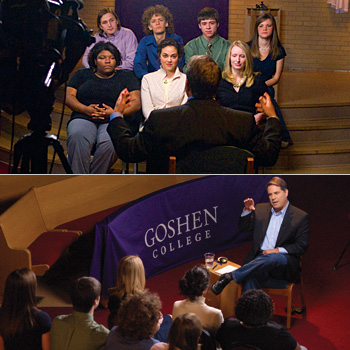 Related links:
VIDEO: Behind the scenes with CNN at GC
Faith and Politics – Perspectives on the 2008 presidential election from the Goshen College community
Media Coverage:
A new faith in politics: Young Mennonites join world of politics. Chicago Tribune. 5.6.08.
CNN forum features first-time voters at Goshen College, Mennonite Weekly Review, 4.18.08
CNN interviews Goshen College students, The Mennonite, 4.15.08
Goshen College students describe faith factor to CNN, South Bend Tribune, 4.16.08
CNN series on first-time voters comes to Goshen College, The Truth, 4.16.08
Students offer political views, Goshen News, 4.16.08
Students at Goshen College discuss Decision 2008, WNDU News Center 16, 4.15.08
UPDATE (5/12/08): The GC segment aired Tuesday, May 6 and Sunday, May 11 on CNN. Watch the video.
Also on May 6, the Chicago Tribune published a story on faith and politics at Goshen College featuring Elizabeth Beachy and Peter Koontz, along with Jeff Hochstetler, a senior business and history double major from Orrville, Ohio, and James Weber, a senior communication major from Reading, Pa., and Emily Miller, a sophomore social work major from Waco, Texas. Also interviewed were Professor of Bible, Religion and Philosophy Keith Graber Miller, President James E. Brenneman and Everett Thomas, a member of the Goshen City Council and editor of The Mennonite. Read the story.
Visit our new website: Faith and Politics – Perspectives on the 2008 presidential election from the Goshen College community
GOSHEN, Ind. – CNN wanted to speak with Mennonites who are first-time voters this year and learn their views on the presidential election. With the Indiana presidential primary happening on May 6, they decided to visit Goshen College and hear from students about what political issues are important to them, as well as how their Mennonite faith informs their politics.
On Tuesday, April 15, CNN anchor Rick Sanchez hosted a roundtable discussion with seven Goshen College students as part of a series called "League of First Time Voters." According to The Truth newspaper, Sanchez said "We're talking to a group of Americans a lot of people don't know about, but will soon know a lot about," Sanchez said, "in their own words."
The CNN segment at Goshen College first aired on Tuesday, May 6 during the "American Morning" show. It is available Online at www.cnn.com/league/index.html and may air during other CNN programs.
Sanchez asked the students questions about foreign policy, immigration, Iraq, race, pacifism, youth engagement in politics this year, patriotism, social issues and the presidential candidates. CNN has previously taped similar discussions at the University of Scranton, a Jesuit institution in Pennsylvania, and Spelman College, a historically black college in Atlanta.
The student participants in the roundtable were:
Elizabeth Beachy, junior English major from Kalona, Iowa
Rebecca Fast, senior social work major who lives in Canada, but is a dual citizen
Sheldon Good, junior communication and business double major from Telford, Pa.
(read Sheldon's blog entry about the event)
Peter Koontz, senior history major from Goshen
Adriel Santiago, first-year collegiate studies major from Souderton, Pa.
Jennifer Speight, first-year English major from Cleveland, Ohio
Kenda Joy Sprunger, first-year molecular biology/biochemistry major from Goshen
About 60 percent of Goshen College's enrollment is Mennonite. The college has about 1,000 students from 40 different Christian denominations, several world religions, 32 states and 26 countries.Editors: For more information about this release, to arrange an interview or request a photo, contact Director of Public Relations Richard Aguirre, rraguirre@goshen.edu or (574) 535-7569 (office) or (574) 524-5946 (cell); or News Bureau Director Jodi H. Beyeler, jodihb@goshen.edu or (574) 535-7572 (office).
###
Goshen College, established in 1894, is a residential Christian liberal arts college rooted in the Anabaptist-Mennonite tradition. The college's Christ-centered core values – passionate learning, global citizenship, compassionate peacemaking and servant-leadership – prepare students as leaders for the church and world. Recognized for its unique Study-Service Term program, Goshen has earned citations of excellence in Barron's Best Buys in Education, "Colleges of Distinction," "Making a Difference College Guide" and U.S.News & World Report's "America's Best Colleges" edition, which named Goshen a "least debt college." Visit www.goshen.edu.