First-year international student calls for end to violence against women and wins annual college peace speech contest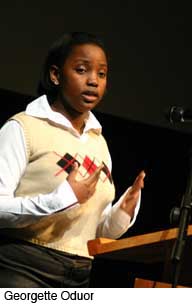 GOSHEN, Ind. – Around the world, at least one in three women has been beaten, coerced into sex or otherwise abused in her lifetime, according to the Johns Hopkins School of Public Health and the Center for Health and Gender Equity.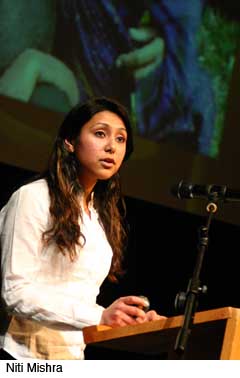 This and other information about global violence against women was presented by Goshen College first-year student Niti Mishra to a crowd that filled Goshen College's Umble Center on Jan. 23 for the 2007 C. Henry Smith Peace Oratorical Contest. Mishra won the competition with her speech "Gender Violence: A Challenge Across Borders."
"I was about 12 years old when I first came to understand what violence against women could mean," said Mishra, an accounting major from Brampton, Ontario, Canada, and originally from Nepal. "Violence against women is nothing new. The way our culture is set up definitely provides a platform for this kind of cruelty to exist. … Though my awakening to this violence came in Nepal, girls and women fall victim to mistreatment and injustice in countries across the world."
Mishra noted that women in economically desperate situations often are the victims of such violence, whether at the hands of their husbands or boyfriends, or when sold into prostitution by family. She said that in Nepal, 172,000 girls have been "trafficked" or forced into a life of prostitution. Women and girls are also the victims of war, Mishra said, because "rape is used in armed conflicts to intimidate, conquer and control women and their communities."
But Mishra didn't want her audience to get too comfortable thinking that violence against women was a distant issue. "The abuse and violence of course does not prevail in Third World countries only," she said. "In the United States, a woman is raped every six minutes; a woman is battered every 15 seconds."
The effects of such violence, Mishra noted, are wide-ranging, including physical, emotional, social, mental and psychological. And though the physical effects can be quite significant, she said that researchers have found out that the psychological effects are "more severe and debilitating than the physical ones."
Mishra, the daughter of Jyoti Singh K.C. Mishra, called her audience to action – to donate to organizations that help women and children around the world and to speak out for women's rights. "We need to recognize that abuse is a fundamental violation of numerous human rights. These violations impact the social, mental, physical and emotional health of thousands of women, and have a profoundly negative impact on the development and well-being of numerous families, communities and entire countries."
She concluded, "We need to act now. We should not ever tolerate violence."
The runner-up for the 2007 competition was first-year student Georgette Oduor, from Kenya, who spoke about "The Truth About AIDS in Kenya: How It Affects Children." She noted that in 2005 Africa had 12 million AIDS orphans and that the number is expected to rise to 20 million by 2010.
Oduor described to the audience how when her uncle died three years ago from AIDS, it was her grandmother who was left to care for his uneducated wife and their seven children. With governments unable to adequately support AIDS orphans and there being relatively few orphanages, the alternative is that children end up on the street, are abused, miss out on an education and lack basic necessities.
"For these orphans, grandmothers may be the only alternative to life on the streets. The grandmothers will look after them as their own, emotionally supporting the children as they share the same loss," said Oduor, a nursing major and the daughter of Evelyn Yobera of Anchorage, Alaska. "But the grandmothers need to be supported in this noble responsibility."
Oduor called on the audience to participate with her in a project she is starting called "Adopt-a-Granny," which will connect the Goshen College community and the youth of her home church in Kenya, and financially support grandmothers who are caring for their orphaned grandchildren. "Your support to the grannies will ensure that the world's most vulnerable future generation does not end up in hostile environments that could seal their fate to a life of crime or death from HIV/AIDS," she said.
The other contestants and their speeches were: sophomore Analisa Gerig-Sickles, of West Branch, Iowa, "Women and the Call to Ministry"; first-year Betsy Houser, from Phoenix, Ariz., "Peace, Prosperity and the Promised Land"; and first-year Drew Stoltzfus, from Souderton, Pa., "The Cosmos and Evil."
Because it is a peace oratorical competition, the topics of the speeches are required to be related to peace, in a universal or specific context, including war and violence, political policies, agencies of justice and peace, peacemaking strategies or current events. The judges for the evening were Goshen Mayor Allan Kauffman, Goshen College Associate Professor of Peace, Justice and Conflict Studies Carolyn Schrock-Shenk and co-pastor of Assembly Mennonite Church Karl Shelly. Associate Professor of Communication Duane Stoltzfus coordinated the competition.
Participants competed for cash prizes and the top winner, Mishra, may enter the U.S./Canada Mennonite Central Committee-sponsored C. Henry Smith Peace Oratorical Contest. Last year's winner, Goshen College senior Rebecca Fast of Waterloo, Ontario, won the bi-national competition with her speech "Misunderstood Minds: Wasted Human Potential" about learning disabilities.
The trust of C. Henry Smith, a Mennonite historian and professor at Goshen and Bluffton (Ohio) colleges, funds the contest, which gives students an opportunity to become involved with the peace cause while cultivating rhetorical skills. Speech contests have been part of Goshen College's history since the early 1900s; the C. Henry Smith contest allows the campus community to hear more about relevant, contemporary issues.
Editors: For more information about this release, contact Goshen College News Bureau Director Jodi H. Beyeler at (574) 535-7572 or jodihb@goshen.edu.
###
Goshen College, established in 1894, is a four-year residential Christian liberal arts college rooted in the Anabaptist-Mennonite tradition. The college's Christ-centered core values – passionate learning, global citizenship, compassionate peacemaking and servant-leadership – prepare students as leaders for the church and world. Recognized for its unique Study-Service Term program, Goshen has earned citations of excellence in Barron's Best Buys in Education, "Colleges of Distinction," "Making a Difference College Guide" and U.S.News & World Report's "America's Best Colleges" edition, which named Goshen a "least debt college." Visit www.goshen.edu.