Brenneman begins spring semester with call for resolutions, risk and seizing the moment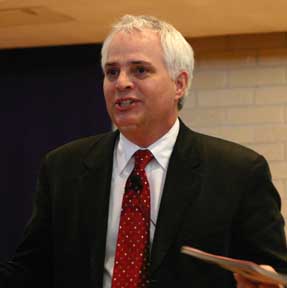 GOSHEN, Ind. – The year 2006 was a good one for new Goshen College President James Brenneman, he said during his opening convocation for the college's spring semester on Jan. 10. He noted, facetiously, that – like every other reader of the magazine – he was named "Time" magazine's Person of the Year for 2006.
It was the larger concept of "time" that Brenneman really wanted to talk about though. "No wonder the year flew by so quickly. We traveled at speeds of up to 700,000 miles per hour around the sun. We are people in perpetual motion, every waking, every sleeping moment of our lives," Brenneman said.
But as Einstein proved, time is relative. "In the Bible, time is thought to be relative as well; not so much to velocity or mass, but relative to God," Brenneman said. "Or as the writer of the Book of Ecclesiastes puts it, God has 'put a sense of past and future into our minds. … Whatever God does endures forever; nothing can be added to it; nor anything taken from it.'"
Brenneman called the campus members to "seize the moment" as they contemplate the new year, including "entering into God's eternal now" by taking, what St. John of the Cross calls "the exquisite risk to still our own house."
"Stop a moment even as the planet continues to spin and 'listen to your life,'" Brenneman said, referencing Frederick Buechner. "Let us exquisitively risk declaring our intents and purposes for 2007. Let us resolve to do something instead of nothing, to grab hold of the pendulum swinging toward justice, toward grace, indeed toward God's infinite grace. Better dare to live an authentic life with all its failures from having tried and failed, than simply, when the sun comes up, find yourself running desperately for dear life itself."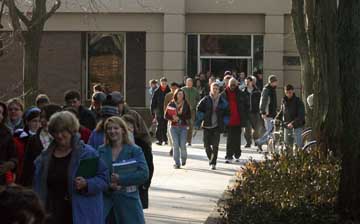 Then Brenneman shared resolutions for 2007 that students had sent him over the break, including to pray for leaders to make wise decisions, to pray for the safety for soldiers on the battlefield and for civilians caught in the crossfire, to study for every test, to recycle, to save more money, to give more generously, to lose weight, to complain less about the cafeteria food, to exercise more, to go talk to someone they disagree with, to support the basketball teams and to learn Spanish.
"The earth never stops to let us off, like trying to build an airplane while flying in the sky," Brenneman said. "Thankfully, Jesus serves as a model for living between the ticks and tocks of God's long now. He had a great sense of timing. Jesus knew when to step forward and lead a crowd and he knew when to slip away unnoticed. He knew there were times to fast and times to feast. … He knew when to resist and when to submit to death, even death on the cross."
Brenneman concluded, "Tick-tock goes the clock of God's long now. How will we respond in 2007? By pushing the snooze button? Or waking up to a whole new day? The exquisite risk and resolve is ours."
Editors: For more information about this release, to arrange an interview or request a photo, contact Goshen College News Bureau Director Jodi H. Beyeler at (574) 535-7572 or jodihb@goshen.edu.
###
Goshen College, established in 1894, is a four-year residential Christian liberal arts college rooted in the Anabaptist-Mennonite tradition. The college's Christ-centered core values – passionate learning, global citizenship, compassionate peacemaking and servant-leadership – prepare students as leaders for the church and world. Recognized for its unique Study-Service Term program, Goshen has earned citations of excellence in Barron's Best Buys in Education, "Colleges of Distinction," "Making a Difference College Guide" and U.S.News & World Report's "America's Best Colleges" edition, which named Goshen a "least debt college." Visit www.goshen.edu.