Celebrated ensemble The Emerson String Quartet to play at Goshen College on Jan. 19
Tuesday, January 9, 2007
Celebrated ensemble The Emerson String Quartet to play at Goshen College on Jan. 19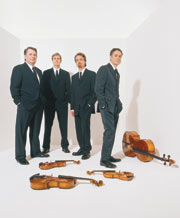 GOSHEN, Ind. – With an impressive repertoire of both classical and contemporary music, The Emerson String Quartet will play at Goshen College Music Center's Sauder Concert Hall on Jan.19 at 7:30 p.m., as part of the Performing Arts Series.
Tickets are currently available for this concert in the choral terrace, the seats behind the performers, for $12.
Formed in 1976 at the Juilliard School of Music, the world-renowned chamber ensemble chose their name in honor of the American poet Ralph Waldo Emerson. The group quickly amassed a reputation for powerful performances spanning both modern and classical pieces. The quartet consists of violinists Eugene Drucker and Philip Setzer, violist Laurence Dutton and cellist David Finckel.
Audiences will immediately note the quartet's unique presentation style upon seeing only one chair on stage. Since 2002, the violist and violinists stand to perform, while the cellist is seated on a podium.
The Boston Globe said, "The Emerson performances represented an extraordinary fusion of experience and authority with audacity and freshness." The New York Times called them "one of the most impressive of American string quartets."
The group has performed the complete cycles of Beethoven, Bartók and Shostakovich quartets in major concert halls throughout the world, and has released a series of recordings exclusively for Deutsche Grammaphon. The Emerson String Quartet has received numerous honors, including six Grammy Awards with two for "Best Classical Album" – the only chamber group to do so – as well as three Gramophone Magazine Awards.
For more information, visit the Quartet's official Web site at www.emersonquartet.com.
Tickets for this show are $35 for A section, $30 for B section or $12 for C section seats. For information about ticket availability, prices, reservations or more information, contact the Welcome Center at (574) 535-7566 or e-mail welcomecenter@goshen.edu.
Future concerts in the Goshen College Performing Arts Series for 2006-07:
· Feb. 17, 7:30 p.m. – Doyle Lawson & Quicksilver
· March 13, 7:30 p.m. – Soweto Gospel Choir
– By Megan Blank
Editors: For more information about this release, to arrange an interview or request a photo, contact Goshen College News Bureau Director Jodi H. Beyeler at (574) 535-7572 or jodihb@goshen.edu.
###
Goshen College, established in 1894, is a residential Christian liberal arts college rooted in the Anabaptist-Mennonite tradition. The college's Christ-centered core values – passionate learning, global citizenship, compassionate peacemaking and servant-leadership – prepare students as leaders for the church and world. Recognized for its unique Study-Service Term program, Goshen has earned citations of excellence in Barron's Best Buys in Education, "Colleges of Distinction," "Making a Difference College Guide" and U.S. News & World Report's "America's Best Colleges" edition, which named Goshen a "least debt college." Visit www.goshen.edu.