Merry Lea green buildings dedicated on April 8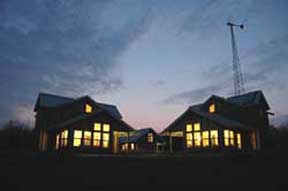 WOLF LAKE, Ind. – "So why did they use two-by-six-inch studs instead of two-by-fours?" asks a student, prompted by the worksheet in her hand. Another student is figuring out how a ground source heat pump works, and a third has abandoned the worksheet and asks, "Where can I buy low VOC [volatile organic compounds] paint?"
These Goshen College students and others in Professor of Biology Stan Grove's Principles of Biology class were the first to study in Rieth Village, a cluster of three earth friendly buildings soon to be in use at Merry Lea Environmental Learning Center. The students were touring the facilities in anticipation of the dedication of the buildings, which took place Saturday, April 8.
Rieth Village was created to house Goshen College's expanding environmental science program and to enable students to live near the ecosystems they study at Merry Lea, the college's 1,150-acre nature preserve. The first resident students will climb into their bunk beds in May, living on site for a three-week course in either ornithology or ecology.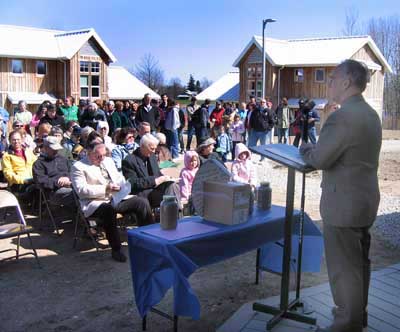 More than 150 students, staff, board members, faculty, contractors, design team members and friends of Merry Lea attended the outdoor dedication of Rieth Village. Above them, a 10-kilowatt wind generator spun in a brisk breeze, and solar hot water panels on the cottage roofs absorbed the spring sunshine.
Speakers at the dedication said that Rieth Village, with its energy-saving features, embodies an idea whose time had come. Max Lake, chair of Merry Lea's board, said that times have changed and environmental science is becoming more and more highly respected. Goshen College Interim President John Yordy, formerly a chemistry professor at the college, contextualized the Merry Lea project when he referred to a recent Time magazine cover story on global warming that admonished Americans to "be very worried."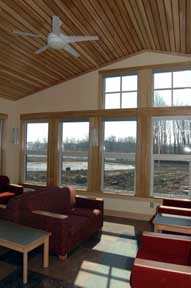 "Rieth Village will enhance Merry Lea's contribution to a healthy global environment," Yordy said. "[It will] emphasize sustainability, good stewardship and education. This commitment to be environmentally responsible is grounded in our call to be stewards of God's earth, to care for the earth and to bring rest and renewal to the land."
During the dedication service, Merry Lea Executive Director Luke Gascho announced the new names of the cottages. Gascho and his staff chose to christen the buildings using the names of soils found in the surrounding fields, partly because Lee Rieth, Merry Lea's founding donor, was a civil engineer and knew soils intimately.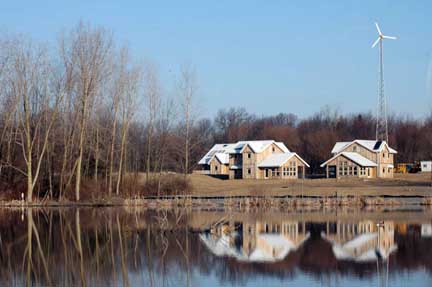 The largest cottage, encompassing 3,530 square feet, was christened "Oshtemo Cottage. Its name refers to a deep, well-drained sandy loam, formed under deciduous tree cover," Gascho explained. In earlier usage, "oshtemo" was a Native American word meaning, "head waters." Oshtemo Cottage will serve as a classroom building until an academic facility is added at a later date.
The two smaller cottages, each 2,200 square feet and designed to house students, were named Pewamo and Washtenaw, also referring to soils also found nearby.
At the conclusion of the event, those present were invited to help plant a burr oak tree nearby. Burr oak is a long-lived, slow-growing native species. Gascho explained that the tree "will reach maturity only after all of us here are dead" – a vision to inspire environmental science students as they seek to be good stewards and caretakers of the earth for generations to come.
– By Jennifer Schrock
Editors: For more information about this release, to arrange an interview or request a photo, contact Goshen College News Bureau Director Jodi H. Beyeler at (574) 535-7572 or jodihb@goshen.edu.
###
Goshen College, established in 1894, is a four-year residential Christian liberal arts college rooted in the Anabaptist-Mennonite tradition. The college's Christ-centered core values – passionate learning, global citizenship, compassionate peacemaking and servant-leadership – prepare students as leaders for the church and world. Recognized for its unique Study-Service Term program, Goshen has earned citations of excellence in Barron's Best Buys in Education, "Colleges of Distinction," "Making a Difference College Guide" and U.S.News & World Report's "America's Best Colleges" edition, which named Goshen a "least debt college." Visit www.goshen.edu.