Tastes and talents from around world featured in annual Goshen College International Coffeehouse Jan. 28
Monday, January 16, 2006
Tastes and talents from around world featured in annual Goshen College International Coffeehouse Jan. 28
GOSHEN, Ind. – There are few opportunities to experience the tastes and traditions of countries and cultures around the world in the same evening. But the International Student Club at Goshen College offers a lively journey around the globe on Saturday, Jan. 28.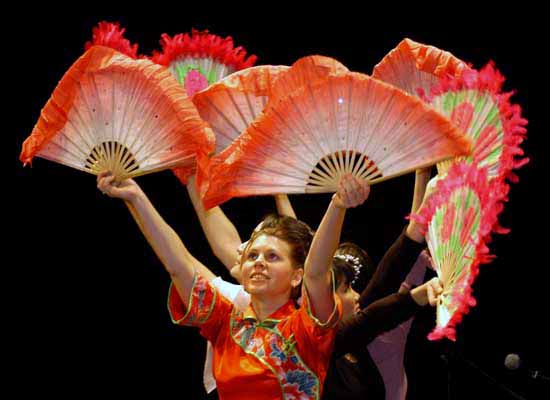 The annual International Student Club Coffeehouse begins at 5 p.m. with an international buffet in the College Mennonite Church Fellowship Hall and is followed by an international student variety show at 7 p.m. in Umble Center.
The international feast will include excellent and exotic dishes from around the world served on a buffet. The performances in the show will include dances, poems and music from around the world.
The profits this year will be donated towards Pakistani earthquake relief, a needy international student for their tuition and club activities.
Tickets for adults cost $16 for the dinner and the show, and $10 for the show only. Tickets for kids under 12 are $11 for the dinner and show, and $6 for the show only. Tickets are available in the Goshen College Welcome Center by calling (574) 535-7566.
Editors: For more information about this release, to arrange an interview or request a photo, contact Goshen College News Bureau Director Jodi H. Beyeler at (574) 535-7572 or jodihb@goshen.edu.
###
Goshen College, established in 1894, is a residential Christian liberal arts college rooted in the Anabaptist-Mennonite tradition. The college's Christ-centered core values – passionate learning, global citizenship, compassionate peacemaking and servant-leadership – prepare students as leaders for the church and world. Recognized for its unique Study-Service Term program, Goshen has earned citations of excellence in Barron's Best Buys in Education, "Colleges of Distinction," "Making a Difference College Guide" and U.S. News & World Report's "America's Best Colleges" edition, which named Goshen a "least debt college." Visit www.goshen.edu.