Kentucky T. Dutchersmith and The Rubber Band offer fun for whole family in Jan. 28 concert
Thursday, January 12, 2006
Kentucky T. Dutchersmith and The Rubber Band offer fun for whole family in Jan. 28 concert
Concert: Kentucky T. Dutchersmith and the Rubber Band family concert
Date and time: Saturday, Jan. 28, 2006, at 3 p.m.
Location: Sauder Concert Hall
Cost: General admission tickets: $3 adults, $1 all children 12 and under. Available at the door.
Event sponsor: Goshen College Community School of the Arts
Web site: www.gcmusiccenter.org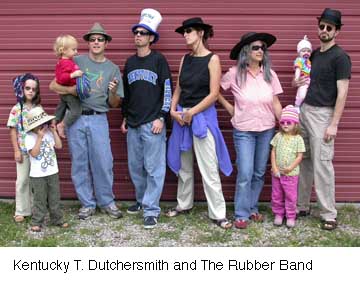 GOSHEN, Ind. – There's fun for the whole family at the next concert sponsored by the Community School of the Arts, because entire families will be performing.
They perform music described as creative, bluesy, folk-rock-influenced, socially conscious, variety-filled and humorous. One of the band members plays the nose flute. The age range is from one to adult. They are the Goshen-based Kentucky T. Dutchersmith and The Rubber Band and in a fun, high-energy, family-oriented concert they will take to the Sauder Concert Hall stage at Goshen College on Jan. 28 at 3 p.m.
Three Goshen families make up The Rubber Band:
· The Dutchersmiths: Kent "Kentucky T." Dutchersmith (lead vocals, bass and nose flute), Teresa (vocals, melodica and percussion), Magdalena, age 7 (vocals and percussion), and Luisa, age 4 (vocals and liturgical movements).
· The Harley-Kruschwitzs: Brian Kruschwitz (vocals, guitars, banjo and congas), LuAnne Harley (vocals), Harley, age 3, and Owen, age 1 (roadies)
· The Brill Bergstressers: Deron (drums and congas), Annette (sound, photographer and CD designer) and baby Alina (chief drooler).
Adult and child members of the group met while attending Faith Mennonite Church in Goshen, Ind., where the group is based. Deron, Brian and Kent are members of the music group which accompanies the congregation's singing. Kent – being a musician, a father and an elementary school teacher who was sick and tired of children's music that kids love but drive parents crazy – had a dream of making a CD recording that would appeal to both children and adults. Kent invited Brian and Deron to join him in this effort. Not only was the CD a product of this collaboration, but a band was formed.
Kentucky T. Dutchersmith and The Rubber Band released their first CD in 2004 called "Mama Don't Allow No Nose Flute Playin' 'Round Here." The CD has received rave reviews from both children and adults. The band's CD release party in February 2004 drew 325 people, ranging in age from one month to 90 years old. The band has also performed at schools, churches, libraries and festivals, and is currently working on their second full-length album, "If You're Not Going Far," to debut in 2006. Andrew Kreider of Goshen adds energy to this CD with a few electric guitar solos and will be sitting in with the band during their Jan. 28 concert.
Kent Dutchersmith has been playing and performing music for nearly 30 years. He enjoys playing the nose flute, the cello, the electric bass, the string bass, the guitar, percussion and enjoys learning new instruments. He has played in orchestras, jazz ensembles, rock bands, folk groups and church music groups. Kent's day job for the past five years has been teaching music and English as a New Language (ENL) in the Goshen Community Schools system. Currently he is teaching music at Waterford Elementary School and ENL at Chamberlain Elementary School. He is a Goshen native and graduated from Goshen's Parkside Elementary School, Whiteman Jr. High School, Bethany Christian High School and Goshen College.
General admission tickets are available at the door and cost $3 for adults and $1 for all children 12 and under.
Editors: For more information about this release, to arrange an interview or request a photo, contact Goshen College News Bureau Director Jodi H. Beyeler at (574) 535-7572 or jodihb@goshen.edu.
###
Goshen College, established in 1894, is a residential Christian liberal arts college rooted in the Anabaptist-Mennonite tradition. The college's Christ-centered core values – passionate learning, global citizenship, compassionate peacemaking and servant-leadership – prepare students as leaders for the church and world. Recognized for its unique Study-Service Term program, Goshen has earned citations of excellence in Barron's Best Buys in Education, "Colleges of Distinction," "Making a Difference College Guide" and U.S. News & World Report's "America's Best Colleges" edition, which named Goshen a "least debt college." Visit www.goshen.edu.