Goshen College students to speak in annual oratorical contest Jan. 17
Tuesday, January 10, 2006
Goshen College students to speak in annual oratorical contest Jan. 17
GOSHEN, Ind. – Five Goshen College student speakers will continue the college's near-century-old tradition by participating in the 2006 C. Henry Smith Peace Oratorical Contest on Jan. 17 in Umble Center at 7 p.m. The event is free and open to the public.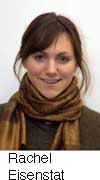 Participants in the college's 2006 C. Henry Smith Peace Oratorical Contest include:
· Senior Rachel Eisenstat (Waynesburg, Pa.), a peace, justice and conflict studies major, will be speaking about the feminine aspects of God in her speech "She has done marvelous things: (Re)opening ourselves to the feminine divine." She will explore the relationship between patriarchy, violence and solely a male image of God. "By including the feminine aspects of the divine, it can be a powerful tool in reducing or preventing violence," She said. Eisenstat is the daughter of Mike and Donna Eisenstat, is a 2001 graduate of Waynesburg Central High School and attends Morgantown Church of the Brethren.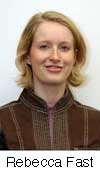 ·Junior Rebecca Fast (Waterloo, Ontario, Canada), a social work and theater double major, will speak about persons with learning disabilities in her speech "Misunderstood Minds: Wasted Human Potential." She said, "People with learning disabilities are the invisible minorities facing systemic oppression in the U.S. today. I would like to make that invisibility visible and further the greater cause of peace and the amelioration of injustice for this oppressed minority." She is the daughter of John and Esther Fast, is a 2003 graduate of Rockway Mennonite Collegiate and attends Erb Street Mennonite Church.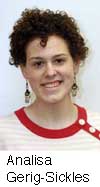 ·First-year Analisa Gerig-Sickles (West Branch, Iowa), a collegiate studies major, will be speaking about "Cultural Connections." During high school she was an exchange student in Honduras and said, "When you know a person from a different culture you are less afraid of that way of life. Because fear often triggers violence, I believe cross-cultural connections can lead to a more peaceful world. That connection can make the world seem smaller." She is the daughter of Jean and David Gerig-Sickles, is a 2005 graduate of West Branch High School and attends First Mennonite Church of Iowa City.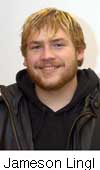 · First-year Jameson Lingl (Camarillo, Calif.), a peace, justice and conflict studies major, is going to be talking about the economic, medical and environmental benefits to society of the legalization of medical marijuana in his speech "The Untold Truths About Cannibis Hemp." He is the son of James Lingl and Lisa Schwartz and is a 2002 graduate of Adolfo Camarillo High School.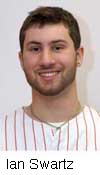 · First-year Ian Swartz (Harrisonburg, Va.), a social work major, will speak about the injustices experienced by homosexuals in his speech "Freedom and Justice for All." He said, "I want people to open their eyes and see that one aspect of someone's personal life should not affect everything else." He is the son of Ted and Sue Swartz, is a 2003 graduate of Eastern Mennonite High School and attends Community Mennonite Church.
Coordinator of the speech contest Pat McFarlane, associate professor of communication, said, "I believe this event is important because it allows students the opportunity to articulate effectively in a public speaking setting which is larger than the classroom can offer. It also offers students the opportunity to reflect deeply on issues."
Each participant will step to the lectern to deliver an 8 to 10-minute speech on their chosen topic relating to peace, in a universal or specific context, including war and violence, political policies, agencies of justice and peace, peacemaking strategies or current events. The addresses will be judged on originality, the integration of topic and a peace position and general standards of delivery.
Participants compete for cash prizes and the top winner may enter the U.S./Canada Mennonite Central Committee-sponsored C. Henry Smith Peace Oratorical Contest. The trust of C. Henry Smith, a Mennonite historian and professor at Goshen and Bluffton (Ohio) colleges, funds the contest, which gives students an opportunity to become involved with the peace cause while cultivating rhetorical skills. Speech contests have been part of Goshen College's history since the early 1900s; the C. Henry Smith contest allows the campus community to hear more about relevant, contemporary issues.
Umble Center is accessible to people using wheelchairs and others with physical limitations.
Editors: For more information about this release, to arrange an interview or request a photo, contact Goshen College News Bureau Director Jodi H. Beyeler at (574) 535-7572 or jodihb@goshen.edu.
###
Goshen College, established in 1894, is a residential Christian liberal arts college rooted in the Anabaptist-Mennonite tradition. The college's Christ-centered core values – passionate learning, global citizenship, compassionate peacemaking and servant-leadership – prepare students as leaders for the church and world. Recognized for its unique Study-Service Term program, Goshen has earned citations of excellence in Barron's Best Buys in Education, "Colleges of Distinction," "Making a Difference College Guide" and U.S. News & World Report's "America's Best Colleges" edition, which named Goshen a "least debt college." Visit www.goshen.edu.