Alumni and Indiana natives return to showcase sculptures and installation art Jan. 8 to Feb. 15 at Goshen College
Wednesday, January 4, 2006
Alumni and Indiana natives return to showcase sculptures and installation art Jan. 8 to Feb. 15 at Goshen College
Art Exhibit: "Homecoming," Greg Stahly and Liz Nofziger, sculpture and installation/collaborative art
Dates: Jan. 8-Feb. 15, 2006
Reception: Jan. 8, 2-4 p.m.
Location: Hershberger Art Gallery, Goshen College Music Center
Cost: Free and open to the public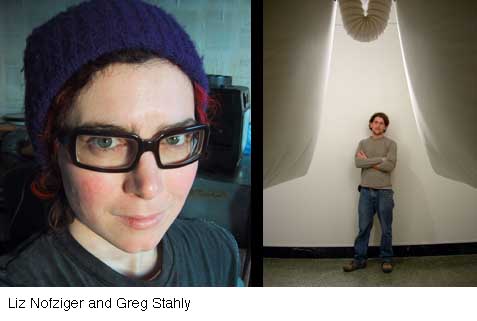 GOSHEN, Ind. – As Goshen College alumni and Indiana natives Greg Stahly and Liz Nofziger return to their alma mater and show their sculptures and installation art this month, they intend for their work to ask interesting and important questions. Stahly's sculptures ask: What is the effect of the perpetual progress that we have come to expect from our society and the systems we have created? Nofziger's video installation titled "Precious" asks: What is precious and innocent?
The works of both emerging artists will be in the exhibit "Homecoming" in the Hershberger Art Gallery, located in the Goshen College Music Center, from Jan. 8 to Feb. 15. A reception for the exhibit will be held on Jan. 8 from 2 to 4 p.m. The event is free and open to the public.
Stahly, who grew up in Goshen where his parents still reside, is a 2001 graduate of Goshen College and received a master of fine arts degree from Indiana University in Bloomington in 2005. Nofziger, who is from rural Paoli in southern Indiana and graduated from Goshen College in 1996, is a Boston-based multimedia installation artist; she received a master of fine arts degree from Massachusetts College of Art in 2004.
In her video installation titled "Precious," Nofziger juxtaposes image and sound to challenge viewers to see imagery that is usually considered "precious" in a different light. It plays with scale shift and speed, transforming the familiar and benign into the unexpected and somewhat threatening. She will also display several other smaller video works in the show.
Nofziger's art installation draws on and continues her previous work. "I continuously explore scale and perspective, examining the known, or ordinary and reconfiguring," Nofziger said. "Humor is an important element in all of my work, although there is often a simultaneous underlying menace, or seriousness. Often, my work requires more physical interaction from the viewer … their participation completes the work."
Nofziger said that her primary influence is the world around her. "Raised in a Mennonite community in rural Indiana, I lapped up the vulgar, showy world as soon as I caught a glimpse of what I might be missing out on," she said. "I am fascinated by our culture and its industries of excess … what we treasure, and how quickly it becomes trash."
Nofziger's work has been shown regionally and nationally, most recently at the Cheekwood Museum of Art (Nashville, Tenn.), Montserrat College of Art (Beverly, Mass.), the Sante Fe (N.M.) Art Institute and at the Contemporary Artists Center (North Adams, Mass.). Her work can be viewed on the Web at www.nofzilla.com/.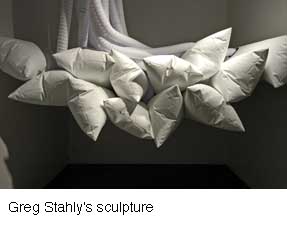 Stahly is currently a visiting instructor of ceramics at the State University of New York-Potsdam and adjunct instructor of ceramics at St. Lawrence University (Canton, N.Y.). His work has been included in exhibits at the Wayne (Pa.) Art Center, Texas Tech University-Landmark Gallery (Lubbock, Texas), Museum of Fine Arts (Tallahassee, Fla.), SoFA Gallery (Bloomington, Ind.) and The Clay Studio (Philadelphia, Pa.). In 2005 he received the Outstanding Student Achievement in Contemporary Sculpture award from the International Sculpture Center. Stahly worked as a production assistant and studio manager for Dick Lehman Pottery in Goshen during and after college.
Stahly's sculptures – large-scale, air-filled vinyl systems – evoke industrial images. "I am intrigued by the perpetual state of progress that has come to permeate every aspect of our lives. Newer and better systems are in constant development and implementation – all embracing the perceived goal of societal advancement," he said. "These systems and structures directly influence our environment; guiding the current evolution of society and, therefore, ourselves. I view this relationship with skepticism and awe – simultaneously acknowledging both benefits and detriments. My work provides an opportunity to step back and evaluate how we utilize and participate in these systems and structures, in terms of both the impact they are having on contemporary life and the impact they might have on the future."
The Hershberger Art Gallery, located in the Goshen College Music Center, is open from 9 a.m. to 4:30 p.m. Monday through Friday, 1 to 4 p.m. on Saturday and 2 to 4 p.m. on Sunday, except during school vacations. The building is accessible to people using wheelchairs and others with physical limitations.
Editors: For more information about this release, to arrange an interview or request a photo, contact Goshen College News Bureau Director Jodi H. Beyeler at (574) 535-7572 or jodihb@goshen.edu.
###
Goshen College, established in 1894, is a residential Christian liberal arts college rooted in the Anabaptist-Mennonite tradition. The college's Christ-centered core values – passionate learning, global citizenship, compassionate peacemaking and servant-leadership – prepare students as leaders for the church and world. Recognized for its unique Study-Service Term program, Goshen has earned citations of excellence in Barron's Best Buys in Education, "Colleges of Distinction," "Making a Difference College Guide" and U.S. News & World Report's "America's Best Colleges" edition, which named Goshen a "least debt college." Visit www.goshen.edu.