Library Gallery to feature sculptures, drawings and paintings from local African-American artists Jan. 15-Feb. 24
Tuesday, January 3, 2006
Library Gallery to feature sculptures, drawings and paintings from local African-American artists Jan. 15-Feb. 24
Exhibit: ""Hope and History""
Reception date and time: Sunday, Jan. 15, 2006 from 2-4 p.m.
Location: Goshen College Good Library Gallery
Cost: Free
Event sponsors: Multicultural Affairs Office, the Good Library and the Plowshares Peace Collaborative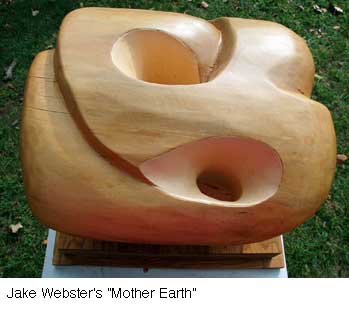 GOSHEN, Ind. – In conjunction with Martin Luther King Day on Jan. 16 and February's Black History Month, the Goshen College Library Gallery will feature sculptures, drawings and paintings by local African-American artists Jake Webster of Elkhart and Terry Waddell of South Bend from Jan. 15 through Feb. 24 in the exhibit "Hope and History." These artists unite in depicting black life in the past, present and future in Elkhart County and beyond.
The opening reception will be held from 2 to 4 p.m. on Sunday, Jan. 15.
For the last 25 years, Elkhart-based sculptor Jake Webster has exhibited across the Midwest and the East Coast. He makes art out of – and about – relationships and attitudes. He works in a story-telling format, and his current theme, "Everything Glitters Ain't Gold," continues to explore wood as the primary medium.
Webster was trained as a painter and art educator. In the spring of 1974, he became a sculptor "standing in the marble quarry of Pietrasanta, Italy. For it was at that moment I realized the making of art is more about feeling than seeing. The making of art is just as much about being as doing," he said. "Selecting wood and stone for my medium frees me from my academic training but not of the discipline. It is pleasingly shocking when the world in which I live is mirrored back before us to see, to touch, to smell, to feel in three-dimensional form. I use simple tools to cut simple shapes to make a simple statement about a simple world we have made more complex."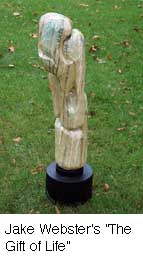 Waddell, who lives and works in South Bend, Ind., is a self-taught artist perfecting his craft through study, discipline and practice. He works in all mediums, though finds the most satisfaction from working in pencil. Waddell has produced an extensive body of commissioned portrait work. He has a rare ability to capture the essence of an individual on canvas, consistently surprising the senses of his subjects and his audience alike. He brings a unique gift to his community, in that his rare talent is evident in each piece he creates, whether it be oil, pencil, watercolor or ink.
Waddell is a member of the Board of Trustees at the South Bend Regional Museum of Art. He volunteers as a panelist for the Indiana Arts Commission and he also works as an art instructor. In 2004, he had artwork on display at the Indiana Governor's Mansion.
This exhibit is sponsored by the Multicultural Affairs Office, the Good Library and the Plowshares Peace Collaborative.
The Library Gallery, located on the lower level of the Wilma and Harold Good Library on the campus of Goshen College, is open from 7:30 a.m. to 11 p.m. Monday-Thursday, 7:30 a.m. to 5 p.m. Friday, noon to 6 p.m. Saturday and 1 to 11 p.m. Sunday.
Editors: For more information about this release, to arrange an interview or request a photo, contact Goshen College News Bureau Director Jodi H. Beyeler at (574) 535-7572 or jodihb@goshen.edu.
###
Goshen College, established in 1894, is a residential Christian liberal arts college rooted in the Anabaptist-Mennonite tradition. The college's Christ-centered core values – passionate learning, global citizenship, compassionate peacemaking and servant-leadership – prepare students as leaders for the church and world. Recognized for its unique Study-Service Term program, Goshen has earned citations of excellence in Barron's Best Buys in Education, "Colleges of Distinction," "Making a Difference College Guide" and U.S. News & World Report's "America's Best Colleges" edition, which named Goshen a "least debt college." Visit www.goshen.edu.