Goshen College alumna Krysta Hawkley returns to perform piano recital Jan. 13
Monday, January 2, 2006
Goshen College alumna Krysta Hawkley returns to perform piano recital Jan. 13
Concert: Community School of the Arts recital – Krysta Hawkley, piano
Date and time: Friday, Jan. 13, 2006, at 7:30 p.m.
Location: Rieth Recital Hall, Goshen College Music Center
Cost: Free and open to the public
Web site: www.gcmusiccenter.org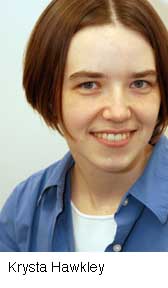 GOSHEN, Ind. – Krysta Hawkley, a 2003 graduate of the Goshen College music program, will return to campus on Jan. 13 to perform a piano recital at the Community School of the Arts at 7:30 p.m. in Rieth Recital Hall. Hawkley's recital program includes pieces by J.S. Bach, Franz Schubert, Franz Liszt and Igor Stravinsky. The concert is free and open to the public.
Hawkley is currently working to complete a master's degree in piano pedagogy and performance from Westminster Choir College of Rider University (Princeton, N.J.). She is studying piano with Ena Bronstein Barton and pedagogy with Phyllis Lehrer, Jim Goldsworthy, Ingrid Clarfield and Jean Stackhouse. Hawkley has given piano instruction for five years and is currently teaching at the Westminster Conservatory as well as through the Small Miracles Foundation, which provides free music lessons to children of disadvantaged families.
While a student at Goshen College, Hawkley performed with the Goshen College Orchestra as a winner of the 2003 Concerto-Aria Competition and presented two solo recitals in Rieth Recital Hall. As a student at Westminster, she has performed in a masterclass given by Chiu-Ling Lin, as well as in William Westney's "Un-masterclass" given at the Goshen College Piano Workshop. She will be presenting her master's recital at Westminster in March of this year.
Editors: For more information about this release, to arrange an interview or request a photo, contact Goshen College News Bureau Director Jodi H. Beyeler at (574) 535-7572 or jodihb@goshen.edu.
###
Goshen College, established in 1894, is a residential Christian liberal arts college rooted in the Anabaptist-Mennonite tradition. The college's Christ-centered core values – passionate learning, global citizenship, compassionate peacemaking and servant-leadership – prepare students as leaders for the church and world. Recognized for its unique Study-Service Term program, Goshen has earned citations of excellence in Barron's Best Buys in Education, "Colleges of Distinction," "Making a Difference College Guide" and U.S. News & World Report's "America's Best Colleges" edition, which named Goshen a "least debt college." Visit www.goshen.edu.